Terrace Chair History
How your favorite summer seat came to be:
The Terrace chair emerged as a campus icon, a trademark of the Wisconsin Union and a symbol of summer decades after the Memorial Union Terrace opened. The Sunburst chair was the last stop in a search for the perfect furniture to adorn the Terrace. Nodding to Wisconsin's agricultural roots and evoking summer and fall, these yellow, orange and green chairs make their appearance each spring for countless students, staff, alumni, and visitors to enjoy.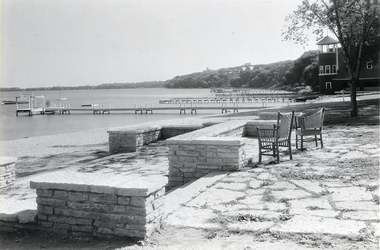 In 1929, the Terrace was originally furnished with rustic hickory chairs, which were widely popular during the early twentieth century at summer resorts. Madison's climate proved too harsh for the wood and within a few years were replaced by more durable metal chairs.
---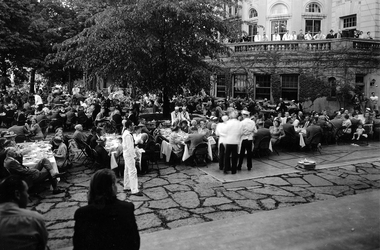 By the early 1930s, several versions of metal chairs replaced the original wooden chairs. One was an early version of the classic stamped-metal Sunburst style. Another was the Deauville, which featured a sunburst shape on the seat and the back using curved strips of steel.
---
Various styles of metal chairs, including the Deauville and the Sunburst style, were used on the Terrace through the 1960s. However, the Deauvilles, which by nature of their design were prone to rusting, were phased out in the 1960s and those that remained in good shape were relegated to the Union Theater balcony.
---
By the early 1970s, the Sunburst proved to be the most durable metal chair design. A hoop encircling the chair's legs provided extra durability for the uneven flagstone surface and rain did not cause it to rust. The Sunburst chairs were made by the Troy Sun Shade Company of Troy, Ohio until the company closed.
---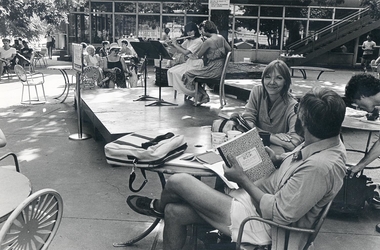 The Memorial Union Building Association commissioned Wisco Industries of Oregon, Wisconsin to fabricate the Sunburst chairs again. The colors of the iconic Sunburst chairs—John Deere green and Allis Chalmers orange and yellow—evoke spring, summer and fall while paying homage to Wisconsin farming traditions.
---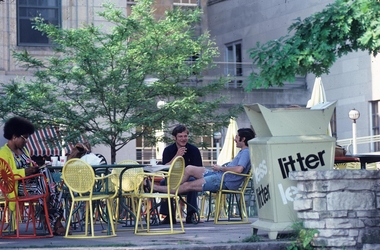 As part of the late 1980s Terrace expansion project, 300 new Sunburst chairs and 70 matching tables were purchased to fill the larger space. The Sunburst chair design was patented and the colors trademarked for use only by the Wisconsin Union.
---
The iconic green, orange and yellow Sunburst chairs still grace the newly expanded and renovated Terrace. On opening day, students helped to fill the new Terrace with more than 700 chairs in the same Sunburst design that has been in use since 1981. 
---