New for the 2023–24 academic year, we're the WUD Daytime Activities Committee! Attend our free events select weekdays before 5 pm at Memorial Union.
Before you head home from campus, pop by one of our activities to meet new people, participate in a game or discussion, socialize and win cool prizes.
We're also looking for students to help plan and organize our events. All ideas are welcome! Join one of our weekly meetings. Bring a friend!
All free events sponsored by WUD Daytime Activities Committee are intended for UW–Madison students, faculty, staff and Union members and guests.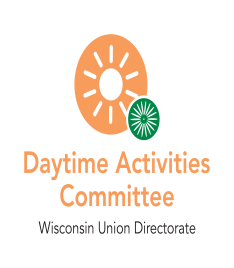 Get In touch
Nyah Matthews, Director
dayprogramming@union.wisc.edu
Committee Meetings

TBA