Wheelhouse Studios

Your Creativity Outlet on Campus
Wheelhouse Studios is a drop-in/open arts studio located in Memorial Union with the intent of providing an outlet for creativity in the heart of campus. With three versatile work spaces, flexible studio designs, drop-in art opportunities, and classes for enthusiasts and first-time artists alike, it's easy to engage in the arts at Wheelhouse.
Get in touch
Interested in learning more, buying a studio pass or booking your event?
wheelhouse@union.wisc.edu | (608) 262-3156
Lower Level, Memorial Union, 800 Langdon St., Madison, WI 53706
Open seven days a week from 12:00pm – 10:00pm
(closed holiday weekends)
Holiday Hours: 
Closed through Jan. 7. 
Open Noon to 8pm, Jan. 8 - 21.
Closed Jan. 12 at 5pm for MLK Day Holiday Weekend,
Reopen Noon, Tuesday, Jan. 16.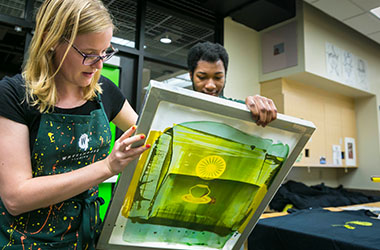 Fun, informal, non-credit classes are offered on a wide variety of topics all year long. Wheelhouse classes are a great way to expand your horizons, refresh your knowledge and build new skills. Offerings include painting, ceramics, glass arts, metal works, jewelry, dance and movement, written word, cooking and many more. ALL Winter/Spring 2018 courses are now open for registration on our registration web site.

---
Wheelhouse Studios has three energetic work spaces for exploration, creativity and collaboration. Each studio has a primary focus – ceramics, 3D art and 2D art and have all of the supplies, equipment and materials needed to do your own drop-in, individual or group course work and/or group instruction.
---
Register for Winter/Spring 2018 classes today!
---
Fused Glass Valentines
Jan. 25, Thu, 6-9pm
Cut and arrange colorful glass into a unique valentine. Your valentine will be fired and ready to be picked up before Feb. 14.
---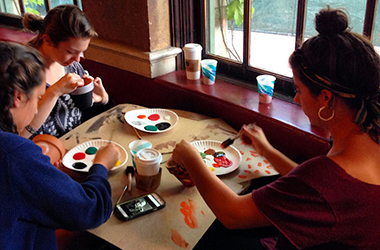 Create art in a great social environment. Choose from 3-4 different projects.
Feb 2 | Mardis Gras/Carnival
Mar 2 | Celebrate Spring
Apr 6 | Cambodian New Year
May 4 | Mother's Day Gifts
February and April presented in collaboration with the WUD Global Connections Committee.
Location: Wheelhouse Studios & Der Rathskeller
---