Outdoor UW

Home of the Wisconsin Hoofers
Outdoor UW is your outlet to the outdoors. Experience the beauty of Madison from Lake Mendota. And if getting out on the lake doesn't satisfy your craving for adventure, Outdoor UW offers lots of opportunities to get out of Madison and explore the great outdoors.
Hours & Location
September 8 - 20: open daily 12 - 7:30pm
After Sept 20, paddling rentals will not be available on Mondays or Tuesdays.
Sept 21 - Oct 4: open daily 12 - 7pm
Oct 5 - 14 - Dec 15: 12 - 6:30pm
Oct 15 - Dec 15: open Mon - Fri 12 - 6:30pm
Check the current lake conditions. Outdoor UW rents paddle craft on green flag days only.
Memorial Union, Lower Level
800 Langdon St., Madison, WI 53706
(608) 262-1630
outdooruw@union.wisc.edu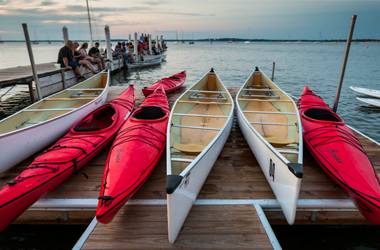 The quickest way to get out on Lake Mendota is in a canoe or kayak, or on a standup paddleboard. Don't have your sea legs? Satisfy your need for nature, stars, and s'mores anytime with a tent rental!
---
New Badgers connect with other new students on a Wisconsin Basecamp summer canoeing or backpacking expedition before they move in and start classes. 
---
Members of the six Wisconsin Hoofers clubs love spending time together outdoors. Wisconsin Hoofers can access specific outdoor equipment, go on planned excursions, and further their skills with outdoor education and skill-based classes.
---