Outdoor UW

Home of the Wisconsin Hoofers
Outdoor UW is your outlet to the outdoors. Typically known for paddling rentals in the summer and as the home of the Wisconsin Hoofers clubs, Outdoor UW offers lots of opportunities to get outdoors and explore in all weather conditions! Need a weekend away? Rent a tent. Need a day at play? Snowshoes are where it's at. 
Hours & Location
Snowshoes will be rented as long as weather permits. Tent rentals are available year-round. Paddling rentals are closed for the season.
Jan 11 – May 6: Open Mon-Fri, Noon-6:30pm
Mar 19 – 27: Closed for spring break
Memorial Union, Lower Level
800 Langdon St., Madison, WI 53706
(608) 262-1630
outdooruw@union.wisc.edu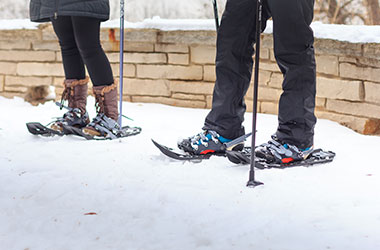 Winter doesn't have to mean hibernation. Make the most of our winter wonderland with a pair of snowshoes.
Need to get away for a night or two? Tents are available year-round. Brave the cold and go camping this winter!
In the summer, the quickest way to get on the lake is in a canoe or kayak, or on a standup paddleboard.
---
New Badgers connect with other new students on a Wisconsin Basecamp summer canoeing or backpacking expedition before they move in and start classes. 
---
Members of the six Wisconsin Hoofers clubs love spending time together outdoors. Wisconsin Hoofers can access specific outdoor equipment, go on planned excursions, and further their skills with outdoor education and skill-based classes.
---