Sunburst Terrace chairs will leave outdoor entertainment and dining destination, the Memorial Union Terrace, on Oct. 30
Posted: 10/30/23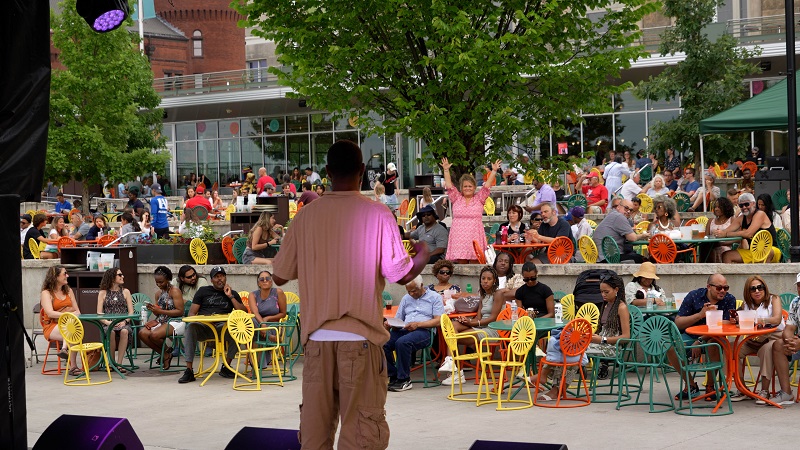 The Wisconsin Union's sunburst Terrace chairs and yellow, orange and green tables will leave the Union's outdoor dining and entertainment space, the Memorial Union Terrace, beginning Oct. 30.
About 350 non-sunburst brown chairs, 72 brown patio tables and 20 picnic tables are anticipated to remain at the Terrace through early November.
The Memorial Union Terrace opens each spring when the Wisconsin Union team brings 2,000 chairs with a trademarked sunburst design and 400 tables to the Terrace.
With the yellow, green and orange chairs' arrival each spring comes a series of outdoor, free live music, film showings and art activities. Mid-Terrace season, the Wisconsin Union begins offering paddling equipment rentals and paddling events through Outdoor UW at its nearby building Memorial Union and seasonal dining options open, joining the Wisconsin Union's year-round restaurants inside Memorial Union.
Most of the events that patrons enjoy during Terrace season as well as other events and activities, continue inside the Wisconsin Union's buildings when Terrace season ends. This includes:
Patrons can find a full list of Wisconsin Union-hosted events at union.wisc.edu/events. They can also contact the Wisconsin Union to schedule private group activities.
While seasonal dining options, called the BBQ Stand, the Brat Stand, and Lakeview Lounge, have closed for the season, year-round, on-site dining options inside Memorial Union include pub fare at der Rathskeller; pasta bowls and made-to-order pizza at Strada; sandwiches and made-to-order salads at Carte; desserts at the Daily Scoop; a variety of beverages and house-made pastries, sandwiches and grab-n-go meals at Peet's Coffee and Badger Market; and beverages, snacks and BBQ fare at der Stiftskeller.
The Wisconsin Union also operates dining options at the Fluno Center: Smitty's Study Pub, which includes salads, sandwiches, tavern fare, a fish fry, and a variety of beverages and entrée options, and Oros Executive Dining Room, which includes buffet breakfasts and lunches.
"While the sunburst chairs are leaving for their winter hibernation destination, we hold more than 1,500 events from October to May for our patrons to enjoy," Wisconsin Union Deputy Director Susan Dibbell said.
The Memorial Union Terrace first opened for a full season in 1929. Both the space and the chairs that guests enjoy there have changed throughout the past almost century, including the changing of Terrace chairs from being wooden to Wisconsin-made metal chairs.
The Wisconsin Union team welcomes about 800,000 visitors to the Terrace each season and about 3 million people to Memorial Union and 1.5 million people to Union South annually.
The current chairs' colors pay homage to Wisconsin's farming industry and aim to evoke Wisconsin's seasons — John Deere green, Allis Chalmers orange, and sunshine yellow. Patrons can purchase red and white Terrace chairs exclusively online at terracestore.union.wisc.edu.
The food, beverages and merchandise that visitors purchase at the Terrace, Memorial Union, Union South and at the online Terrace Store as well as Wisconsin Union membership purchases help the Wisconsin Union provide free and low-cost events and activities as well as maintain its spaces and student leadership opportunities, some of which provide academic stipends of up to 80% of in-state tuition for Wisconsin Union student leaders. Patrons can also support this work through donations.
Wisconsin Union student leaders, who are University of Wisconsin–Madison students, plan most of the Wisconsin Union's more than 2,000 events each year.
The Wisconsin Union does not receive taxpayer dollars for its events, activities, spaces or student leadership opportunities as part of its regular budget.
Patrons can visit union.wisc.edu for information about Wisconsin Union dining options, working and studying spaces, private event opportunities, events and activities.