Three restaurants to open Jan. 17 in Memorial Union
Posted: 01/12/17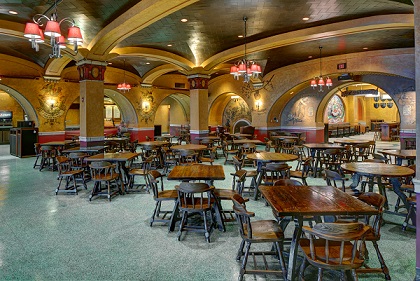 Memorial Union's iconic der Rathskeller and new restaurants Carte, a made-to-order salad and sandwich shop, and Strada, an Italian eatery, will begin serving customers Jan. 17.
Der Rathskeller's comfort food will return with everyone's favorite sandwiches and wraps and some new, shareable appetizers, such as a giant Bavarian pretzel. Der Rath will also serve breakfast items each morning.
Not far from der Rathskeller, Carte will offer made-to-order salads and sandwiches made with fresh ingredients.
"We're using lettuce grown in Wisconsin through aquaponics and cheese from Babcock Dairy," said Jim Long, Restaurant Division director. "Carte will offer customers quick, convenient meals."
Additionally, the Wisconsin Union team will debut Italian eatery Strada. At Strada, customers will have the opportunity to create custom, hearth-fired pizzas, pasta dishes, and Italian flatbread sandwiches called piadinas.
These restaurants add to Memorial Union's existing dining options, including the Daily Scoop, Badger Market and Peet's Coffee & Tea, which began serving customers when the first floor reopened on Dec. 5, 2016.
The Wisconsin Union team will hold a housewarming celebration on Jan. 20 to celebrate the first floor reopening and thank all those who made this milestone possible. Additional details regarding the celebration are available at union.wisc.edu/housewarming.
The first floor reopening is the most recent development in the larger restoration effort known as the Memorial Union Reinvestment (MUR). MUR is funded by segregated student fees, private donations and Wisconsin Union operating revenue. The Union is a self-supporting organization operating without any tax dollars.
MUR construction began in summer 2012 and is projected to conclude in fall 2017. Those interested in learning more about the reinvestment effort may visit unionreinvestment.wisc.edu.