Outdoor entertainment and dining destination, the Memorial Union Terrace, opens April 12
Posted: 04/10/23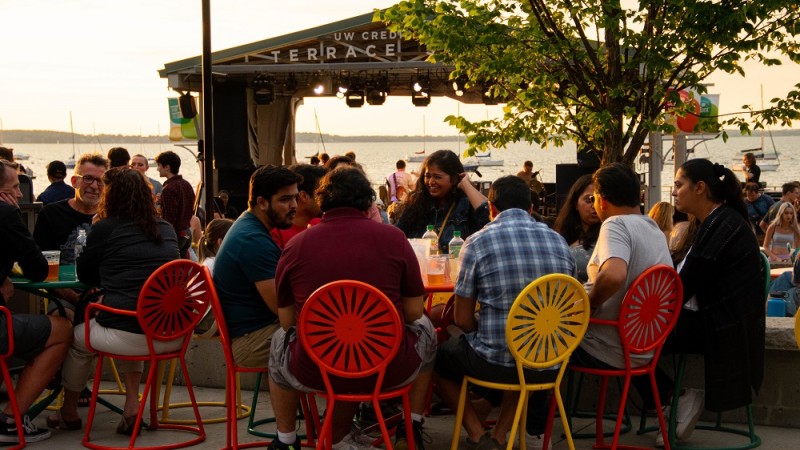 Two thousand chairs, whose appearance each spring and trademarked sunburst design have become synonymous with summer in Madison, Wisconsin, will begin returning to the 40,000-square-foot, lakefront outdoor space known as the Memorial Union Terrace on April 12.
The Wisconsin Union team, which manages the Terrace as well as the nearby building Memorial Union and some other campus entertainment, learning and dining destinations, will also return more than 400 tables to the Terrace April 10-11.
The return of the Terrace chairs signals the start of a time widely known as Terrace season during which the Union team invites patrons to dine, socialize, relax and attend events at the outdoor dining and entertainment hub in addition to enjoying its year-round indoor spaces and services. Terrace season usually begins in late spring and continues through early fall each year and includes:
In times of inclement weather, Terrace events and activities move indoors whenever possible. Patrons can check TerraceSummer.com throughout Terrace season for the most up-to-date event calendar. Seating at the Terrace, including during live music and film showings, is available on a first-come, first-served basis.
Currently available on-site dining options inside Memorial Union include pub fare at der Rathskeller; pasta bowls and made-to-order pizza at Strada; sandwiches and made-to-order salads at Carte; desserts at the Daily Scoop; a variety of beverages and house-made pastries, sandwiches and grab-n-go meals at Peet's Coffee and Badger Market; beverages and snacks at der Stiftskeller; and made-to-order pizza and appetizers at seasonal Lakeview Lounge.
The seasonally available Brat Stand at the Terrace is anticipated to open for the season on April 14, and the seasonal BBQ Stand, which features house-made BBQ fare, and the seasonal Terrace Store at Lakeview Lounge are anticipated to open in early May. Patrons can also purchase Terrace-themed gifts year-round at terracestore.union.wisc.edu.
The Memorial Union Terrace first opened for a full season in 1929. The space and its chairs changed throughout the years, including the expansion of space for chairs and tables, the addition of dining options, and the evolution of Terrace chairs from rustic hickory to Wisconsin-made metal chairs with a trademarked sunburst design.
Today, the Terrace welcomes around 800,000 visitors during a typical Terrace season. The food, beverages and souvenirs that visitors purchase at the Terrace, terracestore.union.wisc.edu and Memorial Union help support the Union's services, hundreds of events, spaces, and student leadership opportunities, some of which provide academic stipends of up to 80% of in-state tuition for the students who lead in WUD, the Union's programming board. WUD creates and runs most of the Wisconsin Union's Terrace season events and the majority of the Union's more than 1,000 events throughout the year.
"A summer in Madison isn't complete without a visit to the Memorial Union Terrace, and we have a summer of programming planned to help people make the most of every week of warmer weather," Wisconsin Union Deputy Director Susan Dibbell said.
The Wisconsin Union is a non-profit organization that does not receive any taxpayer dollars to support its Terrace operations, Terrace season events or year-round patron services, such as its open arts studio and outdoor recreation efforts.
Most of the events that occur at the Terrace also occur inside the Union's spaces from late fall to early spring, including free film showings at the Marquee at Union South; free and low-cost art events at Memorial Union; and free, live music at both Union South and Memorial Union.
In addition to scheduled events, the Wisconsin Union team offers pre-created and custom private group experiences, including outdoor recreation, such as paddling near Memorial Union, and art activities.
The Wisconsin Union team welcomes all ages 18 and older to join the Union as annual or lifetime Wisconsin Union members. Patrons can learn more about becoming members and the benefits of annual and lifetime membership, such as discounts on stays at Wisconsin Union-run hotels and outdoor recreation and arts experiences, at union.wisc.edu/membership.
Patrons can visit TerraceSummer.com for Terrace season details and union.wisc.edu for information about all that the Wisconsin Union offers.