Wisconsin Sound, a new event series featuring Wisconsin artists, will begin Jan. 24
Posted: 01/19/21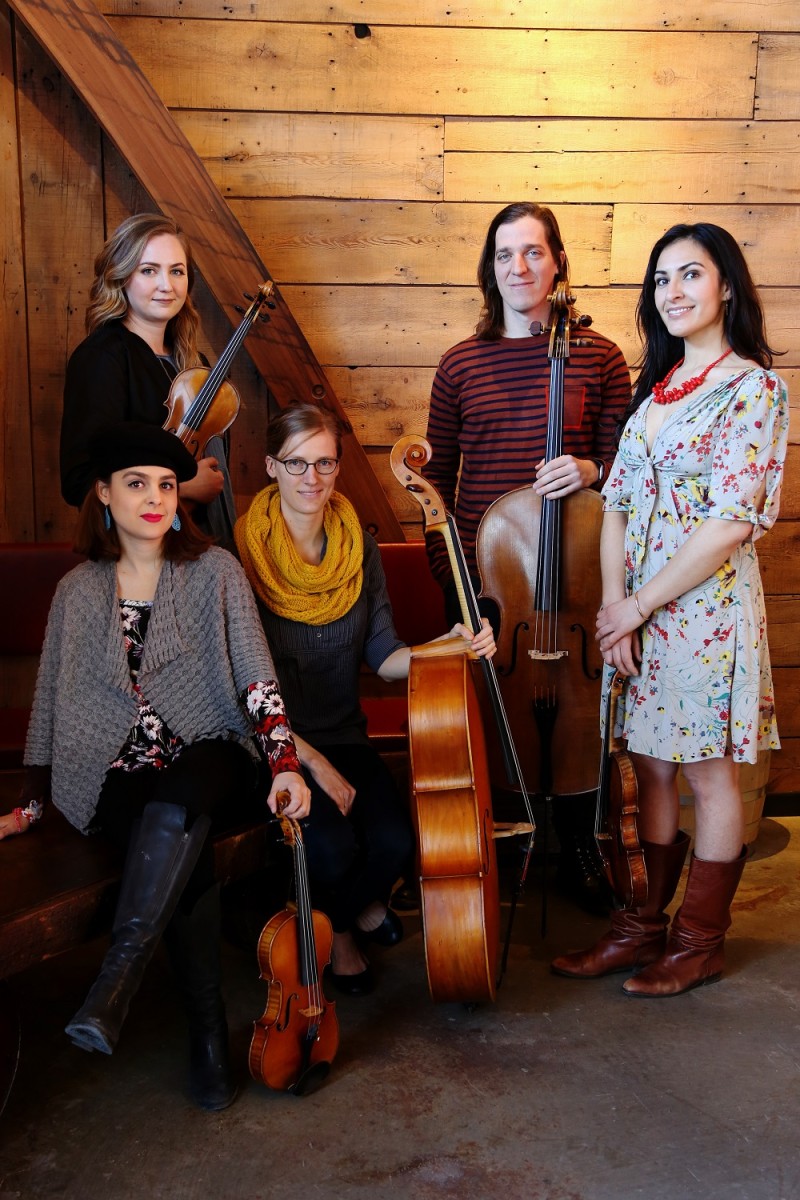 The Wisconsin Union Theater's new, online, pilot event series, called Wisconsin Sound, will exclusively feature Wisconsin artists, beginning with the virtual streaming of a concert by the Willy Street Chamber Players (WSCP) on Jan. 24 at noon CDT.
In addition to the Willy Street Chamber Players performance, the series will include performances by flutist Iva Ugrčić and pianist Satoko Hayami on Feb. 21, the Johannes Wallmann Quintet on March 21, modern classical band Mr. Chair on April 11, and the Pro Arte Quartet on May 2. All performances will take place at noon CDT on their respective dates.
Tickets for one performance cost $15, or patrons can purchase a multiple-performance package at a discounted rate. For details, click here. Each event will be available for ticket holders to enjoy on-demand for one week following its initial livestream, with the program becoming unavailable at 1 p.m. CDT one week after its initial livestream. For example, the first event will be available to ticket holders until 1 p.m. CDT on Jan. 31.
The Theater team created this new series both for its patrons as well as to help support performance artists, many of whom have experienced canceled performances due to COVID-19.
"We, at the Wisconsin Union Theater, want to do our part to support the great talent right here in Wisconsin," Wisconsin Union Theater Director Elizabeth Snodgrass said. "We want artists to have the opportunity to continue to create art and enrich lives with their artistry."
The debut event with the Willy Street Chamber Players will include a performance of Fantasiestücke for Cello and Piano, Op. 73 by Robert Schumann; Fantasy No. 2 for Violin and Piano by Florence Price; Kiép Nào Có Yeu Nhau for Violin and Piano by Rachel Eubank; and Adagio and Allegro for Cello and Piano, Op. 70 by Robert Schumann.
WSCP's performers include violinists Paran Amirinazari and Eleanor Bartsch, cellists Mark Bridges and Lindsey Crabb, and pianist Thomas Kasdorf. The Players aim to create community through music and bring imaginative approaches to classical music.
On Feb. 21, the Theater team will livestream Ugrčić and Hayami performing Flute Sonata, Op. 167 "Undine" by Carl Reinecke, "Chant de Linos" by André Jolivet, and "Fanmi Imen" by Valerie Coleman.
Serbia-born Ugrčić, a University of Wisconsin-Madison alumna, is known not only for her incredible talent as a flutist and teacher but also for her work to make a difference for women in the arts. Hayami, a native of Japan, won the Paul Collins Wisconsin Distinguished Fellowship and has performed at venues throughout the world. She is currently working toward her doctorate in musical arts at UW-Madison.
The series will continue on March 21 with a performance by the Johannes Wallmann Quintet. The Quintet includes pianist Johannes Wallmann, trumpeter Russ Johnson, tenor saxophonist Tony Barba, bassist Peter Dominguez, and drummer Jon Deitemyer. Wallmann works not only as a pianist but also as a composer and the UW-Madison director of jazz studies. The in-demand winner of many national scholarships and competitions has gained a reputation as a versatile performer adept at a wide range of musical styles.
The next performance by Mr. Chair on April 11 will include "Abandoned Cities," "Appellation Spring," and "Better Days" by Mark Hetzler; "Britten's Written Rhythm" and "March" by Jason Kutz; "Elegy" by Ben Ferris; and "Fuchsia" by Jason Kutz with a poetry and reading performance by Buzz Kemper.
The group features trombonist Mark Hetzler, pianist Jason Kutz, drummer Mike Koszewski, and bassist Ben Ferris. Established in 2016, Mr. Chair does not limit itself to one genre; it fuses jazz, classical, rock and more, making it a band enjoyed by people of many musical interests.
The series will conclude on May 2 with Pro Arte Quartet's performance of quartets by Ludwig van Beethoven in connection with the Quartet's celebration of the composer's 250th birthday in the 2020/2021 season. The celebrated Quartet began in 1912 and boasts a long history of accomplishments, including serving as the court quartet to the queen of Belgium. Stranded in the United States when Nazi forces invaded Belgium in 1940, the Quintet began a residency at UW-Madison, where it continues today. The group is the first and only quartet to reach its 100th anniversary.
"We are committed to our mission of delivering high quality performing arts to our community, despite the challenges we face this year and even if our shared experience can only be through a virtual space right now," Snodgrass said.
For more than 75 years, the Wisconsin Union Theater has served as a cultural center for community members and visitors.
The Theater team strives for all of its spaces to be accessible. Those that need accommodations can email wisconsinuniontheater@union.wisc.edu.
The Wisconsin Union Theater team has committed to taking action in standing against racial inequities. For a full statement on the Theater's stance and efforts, click here.
This season of Wisconsin Union Theater programming is made possible in part by Wisconsin Arts Board funding from the State of Wisconsin and financial assistance from the National Endowment for the Arts.
For more information about Wisconsin Sound, visit union.wisc.edu/wisconsin-sound-series.