Pre-ordering of Wisconsin Union's house-made Thanksgiving To Go meals opens Nov. 1
Posted: 10/18/23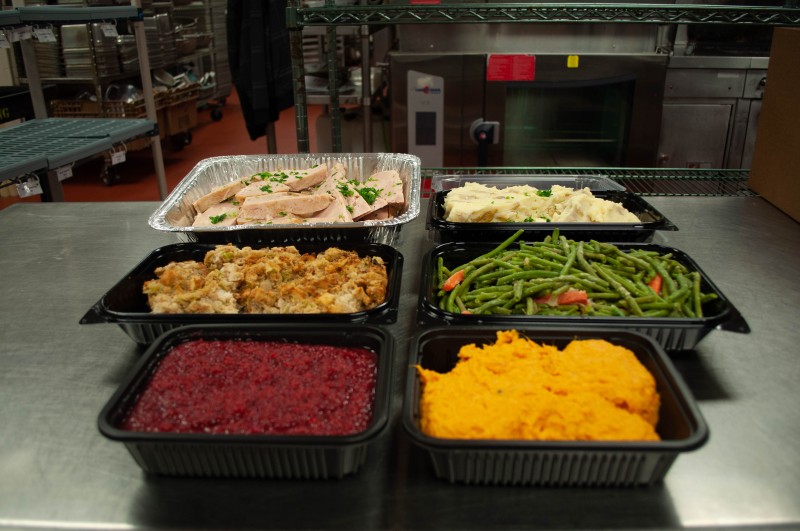 The Wisconsin Union team's annual Thanksgiving To Go will return in November with online ordering of group meals for six people and individual-sized meals beginning Nov. 1 at 9 a.m. CDT and ending on Nov.15 at 5 p.m. CDT or while supplies last.
Since 2004, the Wisconsin Union team has offered ready-to-reheat and serve, house-made Thanksgiving meals. This year's meal options include:
Group meals for six people for $175, which include a choice of a bourbon turkey or roasted turkey entree, sides of turkey gravy, mashed potatoes, herbed green beans, sage stuffing, mashed sweet potatoes, cranberry relish and fresh dinner rolls with butter, and a choice of pumpkin, pecan or fudge bottom pie
Individual-sized meals for $18, which include the choice of a roasted turkey, baked gingersnap mustard-glazed ham or creamy butternut squash lasagna entree, a variety of house-made side dishes, including herbed green beans and cranberry relish, and a choice of pumpkin, pecan or fudge bottom pie
Customers can add additional sides of cranberry relish, turkey gravy or creamy butternut squash lasagna and whole pies to their orders.
All members of the public can submit orders. At the time of ordering, customers can select a pick-up time window for a time between 11 a.m.–5:30 p.m. at Memorial Union on Nov. 22.
People can also give to support the donations of individual-sized meals to University of Wisconsin–Madison students experiencing food insecurity. Patrons do not need to purchase a meal to make a gift. The donating of meals is the continuation of a three-year-long partnership between the Wisconsin Union team and the UW–Madison Dean of Students office. The parnters seek to build the campus community by offering UW–Madison students in need of free Thanksgiving To Go meals can complete the meal request form here beginning Nov.
"We at the Wisconsin Union have almost 10 years of experience with creating house-made, convenient Thanksgiving meals that help people make the most of their time," Wisconsin Union Deputy Director Susan Dibbell said.
According to a 2022 FinanceBuzz survey, more than 69% of Americans would consider getting or have purchased their Thanksgiving meal pre-cooked from a restaurant. The Wisconsin Union team was an early adopter of this growing trend, having begun offering Thanksgiving meals to go in 2004. This replaced a previously offered Thanksgiving buffet, which waned in popularity in its final years.
Purchases of Thanksgiving To Go meals and all purchases at Wisconsin Union dining options help the Union team provide thousands of events, activities, spaces and student leadership positions, some of which include academic stipends of up to 80% of students' in-state tuition.
Customers interested in ordering Thanksgiving To Go as well as those who would like to donate to support students experiencing food insecurity can visit union.wisc.edu/thanksgiving. Those who would like more information on how they can help address food insecurity on campus can contact Kristen Beckett at kelliott2@wisc.edu.