A rainbow of Terrace chairs will make a limited-time appearance at Memorial Union on June 21
Posted: 06/15/23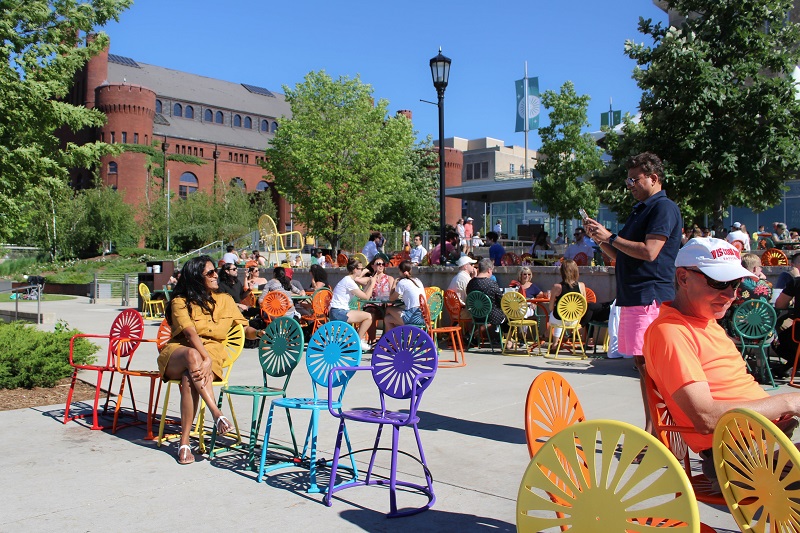 The Wisconsin Union team will bring out a few Terrace chairs in colors not usually seen at Memorial Union, such as blue and purple, to join with yellow, orange and green Terrace chairs near the front steps of Memorial Union on June 21 from 2-5 p.m. in recognition of Pride Month.
The team invites patrons to take photos with the chairs. The rainbow of chairs previously made appearances at the outdoor dining and entertainment destination the Memorial Union Terrace in 2019 and 2022.
The Wisconsin Union team is further celebrating Pride Month by flying a Pride flag at its buildings Union South and Memorial Union throughout June, except June 16-18 during which a Juneteenth flag will be at both buildings. The Wisconsin Union team is also offering free sunburst image Pride buttons at Union South and Memorial Union, while supplies last.
The sunburst design on the more than 2,000 Terrace chairs, including those presented as part of Pride Month and those at the Memorial Union Terrace, is a trademarked image with early versions dating back to the 1930s. The sunburst has become a well-known image that is synonymous with Madison summers.
The Wisconsin Union marketing team has previously created multiple Pride Month computer and phone wallpapers, which can be downloaded for free here.
Recent 2023 Pride Month events included the Wisconsin Union Directorate Film Committee's two free Lakeside Cinema film showings: "Booksmart" on June 5 and "But I'm a Cheerleader" on June 12.
Patrons can visit the Union's website to learn more about the Pride Terrace chairs at the Terrace.