Black Arts Matter Festival returns with a range of events, including art, comedy, poetry and music, Nov. 8-12 in Madison
Posted: 10/03/23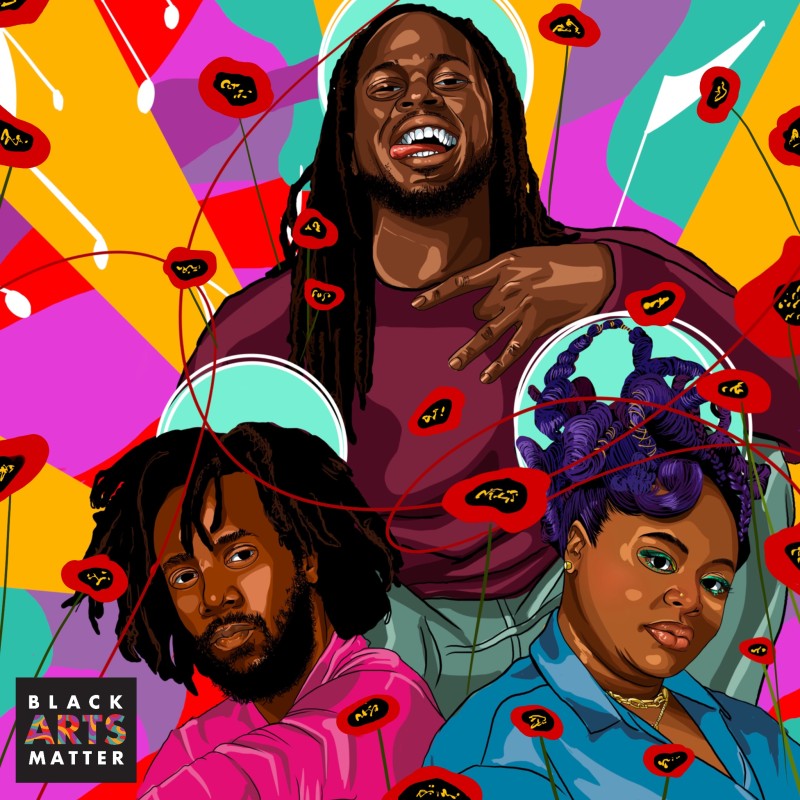 The annual Black Arts Matter (BAM) Festival returns for a fourth year to Madison, Wisconsin, Nov. 8-12. The BAM Festival will include live music, visual art, a vendor market, and a poetry slam competition featuring slam champions from across the United States.
University of Wisconsin–Madison alumna and award-winning poet, actor and artist Shasparay founded the BAM Festival in 2019 and continues to serve as its artistic director. She co-produces and co-presents the BAM Festival with the Wisconsin Union Theater (WUT).
The full lineup includes:
Nov. 8:
A public welcome reception with DJ Femme Noir, 5:30 p.m. in the Shannon Sunset Lounge at Memorial Union
Viewing of "Apologetically BLK" exhibition by Mawhyah Milton, 6 p.m. in the Class of 1925 Gallery at Memorial Union, presented by the Wisconsin Union Directorate (WUD) Art Committee in collaboration with Shasparay and WUT
Nov. 10:
All-Star Poetry Slam featuring more than a dozen of the country's top poets, 7:30 p.m. in Shannon Hall at Memorial Union
Nov. 11:
Live music by New Orleans-based, GRAMMY-nominated R&B band Tank and the Bangas, 7:30 p.m. in Shannon Hall at Memorial Union
Nov. 12:
The Black Arts Matter Youth Talent Competition, 2 p.m. at Madison Youth Arts (MYArts)
BAM Art Market, an art and vendor market, 11 a.m. at MYArts
New BAM events include a gallery exhibition, featuring the artist who created BAM's visuals; a youth talent competition; the BAM Art Market; and the welcome reception where the community is invited to kick off the celebration and try this year's signature beverage, BAMalicious, which will have a non-alcoholic option and be available in Shannon Sunset Lounge prior to most of the BAM Festival events taking place in Shannon Hall.
The cornerstone of BAM is its poetry slam competition. The All-Star Poetry Slam will consist of three rounds, eliminating half of the poets in each round before a final champion is chosen. Shasparay and WUT will provide additional details at union.wisc.edu/bamfestival closer to the Festival's start. First, second, and third-place winners will receive cash prizes, and the winner of the slam will open for the Festival headliner, Tank and the Bangas, the following evening.
"The festival is packed this year," Shasparay said. "We have a mix of local and world-renowned talent that are being brought together in celebration of Black arts and creativity. I am particularly excited to engage youth artists and have a vendor market."
Shasparay founded the BAM Festival while earning her undergraduate degree in theatre from UW–Madison. She created the festival after identifying a lack of Black arts awareness and platforms in Madison, Wisconsin. Shasparay has a master's degree from the UW–Madison Wisconsin School of Business and is globally recognized for her performance art, including ranking fourth at the 2022 Womxn of the World Poetry Slam. She has been featured on Button Poetry, in the Huffington Post, and on BuzzFeed. She is currently playing Gilda in "The Wiz" at an arts venue in Madison.
WUT first partnered with Shasparay in 2020 as part of WUT's commitment to celebrating arts and culture that highlight and uplift diverse identities, stories, and voices with the intention of creating an equitable and inclusive place for all who engage with the Theater, the Wisconsin Union, and UW–Madison.
"This year's Black Arts Matter Festival combines visual art, comedy, poetry, spoken word, and music," WUT Director Elizabeth Snodgrass said. "The performing and visual arts are some of the best ways to express ourselves – sometimes the only way – and the artists featured in this year's Festival have so much to say and share. Every night is a 'don't miss.'"
The BAM Festival is part of the WUT 2023-24 season of what's next now in performing arts, which features dance, international music, jazz, and chamber music.
The BAM Festival is made possible in part with support from the Wisconsin Union, the Wisconsin Alumni Association, the Evjue Foundation, Dane Arts, the Madison Arts Commission, the National Endowment for the Arts, and the Division of the Arts.
Patrons can save 20% on WUT season events through subscriptions, including the brand-new build-your-own subscription options of three to five events for 15% off or six or more events for a 20% discount.
Patrons can purchase tickets to the BAM Festival and other WUT events online, at the Memorial Union Box Office, or by phone at (608) 265-2787.
Patrons can learn more about the BAM Festival and purchase tickets to Festival events at union.wisc.edu/bamfestival.