What does it mean to be Jewish in America?
Posted: 01/07/20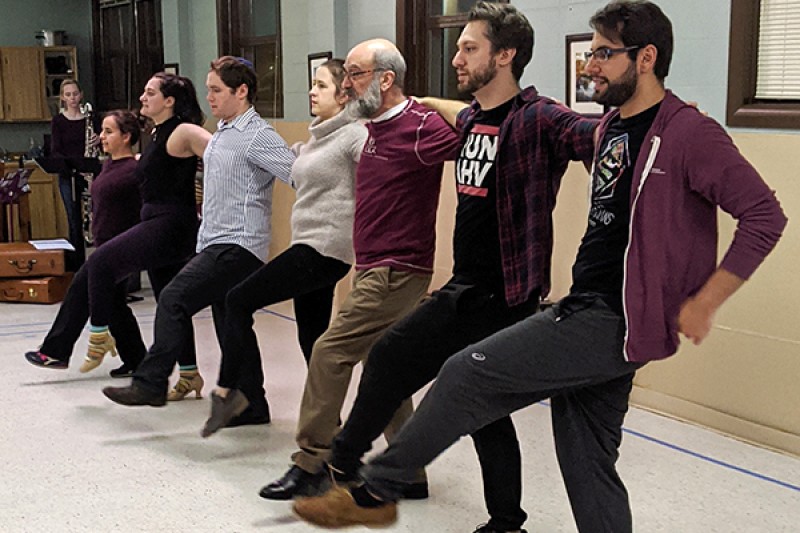 January 31st, 2020, I will ascend to the stage as the character Lemml in the musical Indecent, kvelling to the audience, "we have a story we want to tell you about a play, a play that changed my life."
That story is the true tale of the progressive Yiddish Theatre troupe that brought God of Vengeance to Broadway almost a century ago, on February 19th, 1923.
I have found kinship with my character Lemml since I began work on Indecent with Music Theatre of Madison. My own life has been transformed as I have reflected on one of the show's central questions: What does it mean to be Jewish in America?
October 13th, 2005 was my final dress rehearsal for The Diary of Anne Frank at James Madison Memorial High School. It was also Yom Kippur—the holiest day of the year for Jews. A week earlier, I had reminded the director that I would have to miss that rehearsal. He had responded that that would be unacceptable. So, I fasted all day and went to rehearsal all night.
This is what it means to be Jewish in America.
March 5th, 2015, I moved to New York City. Within four months, I met the love of my life and became engaged. As we planned our wedding, I learned of an ancient Jewish custom that fascinated me: grooms wear a white burial shroud known as a "kittel". To my Reform Jewish family, this Orthodox practice was strange and foreign. I adopted the tradition anyway, even though it felt subversive.
This is what it means to be Jewish in America.
August 2nd, 2017, I attended Indecent's Tony Award-winning New York production. In the show, Polish Jews bring a play to Broadway about women who find lesbian love despite living with a corrupt Jewish patriarch. In response to the play, an American rabbi argues that portrayals of corrupt Jews have enabled xenophobic immigration policy. He urges Jews not to produce such portrayals themselves, which could further threaten their brethren fleeing pogroms—
"This is what it means to be Jewish in America."
The following month, September 29th, 2017, I attended Yom Kippur services at New York's LGBT synagogue, Congregation Beit Simchat Torah. While there, I discovered that they were mourning the loss of their member Edith Windsor, whose namesake Supreme Court case guaranteed federal recognition of gay marriage. I also learned that CBST considers Pride to be a Jewish holiday—the fight to be affirmed by society despite our "queer" outfits and "unchristian" habits is a perennial Jewish experience. This community won me over and on Yom Kippur 2018 I finally became a member.
As I have worked on Indecent, I have been continually inspired by my character Lemml. Lemml sacrifices his comfort, safety, and even food to share his love of theatre with the world. I feel called to tell his story. This, too, is what it means to be Jewish in America.
Micah Cowsik-Herstand
Actor, Music Theatre of Madison
1/7/2020
---
Indecent is a Tony-Award winning piece by Pulitzer Prizer-winner Paula Vogel tells the story of a Yiddish play called God of Vengeance, its controversial 1923 Broadway debut, what led up to it, and what followed. The show runs January 31 - February 15. Learn more and purchase tickets here.