Imani Winds: Expanding the Chamber Music Repertoire
Posted: 01/13/23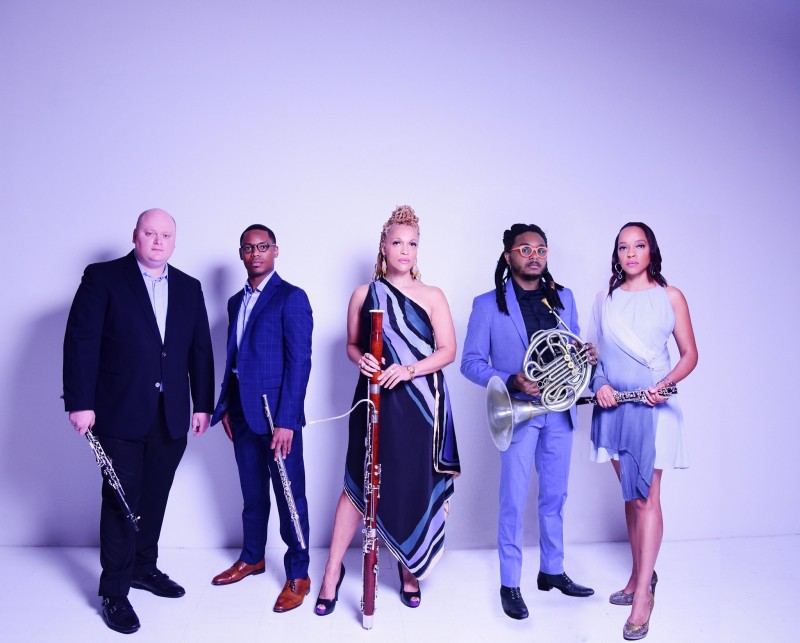 Part of Imani Winds's vision is to "steer the national conversation on instrumental music by commissioning composers of new music, training and mentoring the next generations of musicians, and implementing projects that highlight and strengthen the rich diversity of chamber music."
On Feb. 5 in Collins Recital Hall, Imani Winds furthers this mission during its time in Madison with both a performance and conversation. Join us at 11 a.m. in Collins Recital Hall for "Today's Conversations-Timely Discussions on Race, Diversity and Equity in Classical Music," a free studio class with members of the group. Then, return to Collins in the evening for the ensemble's performance of "BLACK AND BROWN,'' a program celebrating composers of color. In addition to programming works by founding members Valerie Coleman and Jeff Scott, Imani Winds has commissioned works since 2008 through its Legacy Commissioning Project in an effort to diversify the wind quintet repertoire. The program will include:
Jeff Scott (b. 1967) | "Titalyo" (2006)
Jeff Scott is an in-demand Frenchhornist, composer and educator in addition to being an Imani Winds founding member. His 2006 composition "Titilayo" is a Yoruban-based work that features joyful call and response.
Reena Esmail (b. 1983) | "The Light is the Same" (2017) - part of Legacy Commissioning Project
Reena Esmail is a distinguished composer whose doctoral thesis explored "Uniting Practices in Hindustani and Western Art Musicians." "The Light is the Same" is a dynamic work based on two Hindustani raags: "Vachaspati" and "Yaman." Esmail was inspired by a poem from Rumi, which reads: "Religions are many / But God is one / The lamps may be different / But the Light is the same."
Paquito D'Rivera (b. 1948) | "Aires Tropicales" (1994)
Paquito D'Rivera has been a titan of Latin jazz and is a veteran when it comes to composing for woodwinds. He has won 11 Grammys and Latin Grammy Awards and a Carnegie Hall Lifetime Achievement Award. "Aries Tropicales" is a diverse collection of character pieces, including a catchy habañera and a tribute to celebrated artist Dizzy Gillespie.
Valerie Coleman (b. 1970) | Rubispheres No. 1 For Flute, Clarinet and Bassoon (2015)
Composer and flutist Valerie Coleman is the original mind behind Imani Winds. She founded the group in 1997 and is now frequently found at the top of critics' lists for best composers. Her works often narrate her own cosmopolitan life while also centering her own experiences as a Black woman. In Rubispheres No. 1, Coleman captures the intricate soundscapes of Manhattan.
Wayne Shorter (b. 1933) | "Terra Incognita" (2006) - part of Legacy Commissioning Project
Wayne Shorter has become a household name for musicians. With 11 Grammys and counting, The New York Times insists he is "probably jazz's greatest living small-group composer and a contender for greatest living improviser."
Júlio Medaglia (b. 1938) | "Belle Époque en Sud-America" (1994–1997)
Júlio Medaglia is a renowned Brazilian composer, who has explored and excelled in numerous genres including classical and Tropicalismo, and was a student of Stockhausen and Boulez in the German music scene. "Belle Époque en Sud-America" features a lively tango, waltz and chorinho.
Join us for this exciting program in person on Feb. 5 at 7:30 p.m. You can purchase tickets to the performance here.