Camping, Hiking and Climbing Rentals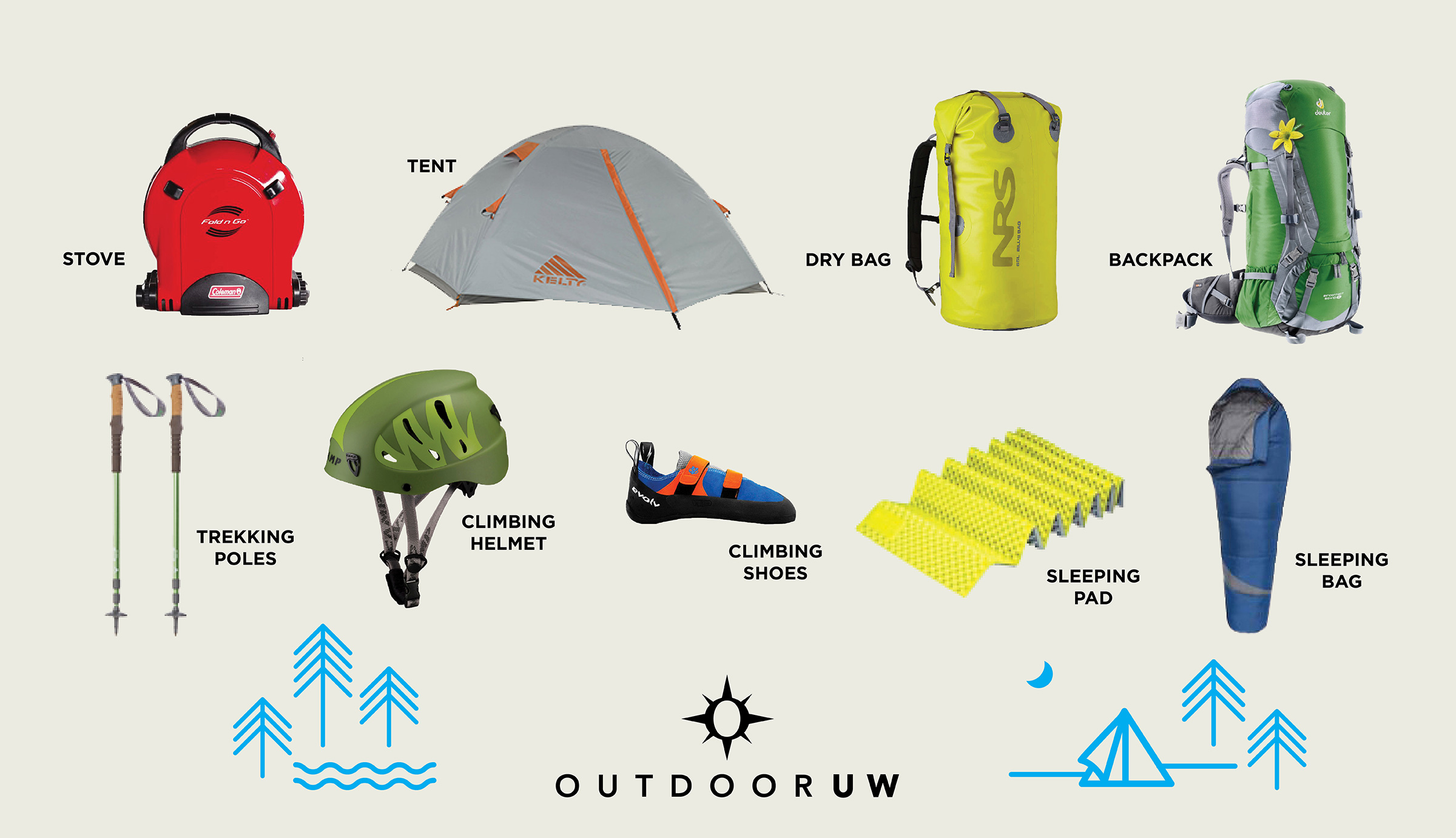 How To Rent With Us
Outdoor UW staff will receive your request, create your reservation and send you a confirmation email, including an invoice. 
Pick-up your rental equipment (Thursday 3 – 6:30 p.m. or by appointment) and turn in your signed Liability Waiver.
Return your gear (Monday, 10 a.m. – 6:30 p.m. or Thursday, 3 – 6:30 p.m.) 
- Monday, 10 a.m. – 3 p.m. | Contactless drop-off 
- Monday, 3 – 6:30 p.m | Office drop-off
- Thursday, 3 – 6:30 p.m. | Office drop-off
Equipment
Weekend Rental


(Thursday-Monday)

 



Week-long Rental


(Thursday-Thursday)



Tent

$15

$20
Sleeping Bag

$13

$17

Sleeping Pad

$7

$9

Backpack

$13

$17

Stove

$7

$17

Trekking Poles

$7

$9

Climbing Helmet

$7

$9

Climbing Shoes

$7

$9

Dry Bag

$13

$17

Camp Chair

$7

$9

Large Lantern

$7

$9

Pot, Pan & Utensil Set

$7

$9

Tarp

$7

$9
If you have questions contact us at (608) 262-1630 or via outdooruw@union.wisc.edu. Please note that staffing is limited. If the team does not answer the phone, please leave a message, and a team member will return your call as soon as possible.
Policies and Forms
General Rules
Renters must be 18+ years. 
A valid ID must be presented, including government issued ID card, UW-Madison student ID card, or Wisconsin Union membership cards.
If renting equipment for a group, the individual renting equipment is responsible for all equipment as indicated on the contract and any late, lost, repair or cleaning fees.
Rentals are first-come, first-served unless otherwise designated.
No pets allowed on or in any rental items.
Payment in full is required for all off-site rentals.
All rental equipment is to be used as intended by the manufacturer. Customers are encouraged to request a demonstration in the proper use of all equipment rental items.
We are able to accommodate individuals and groups. Contact us to discuss your group rental needs. 
What if I've never camped before?
The Outdoor UW staff can offer tips and tricks and some advice on how to make your first camping trip a success. And make sure to watch their Camping 101 video to help you determine if you're ready for a night in the great outdoors. 
What should I wear?
Dress for the weather and wear layers. Since the weather can quickly change in the winter, layering with a wicking-base layer, a warm mid jacket, and a protective outer shell will provide the best coverage and warmth while also providing the ability to lose a layer if you become too warm. Insulated and water protected boots with a wool or synthetic sock to help manage foot moisture are highly recommended.
What should I bring?
For any type of rental, remember to bring money and your ID! If you are camping or hiking, we recommend you bring...
Sunglasses
Sunscreen
Water bottle with clip
A snack and plenty of food depending on the length of your trip
Plenty of warm clothes
We have some items for sale, such as sunscreen, snacks and beverages, water pouches, and lip balm.