Paddling, Yoga & Snowshoe Group Activities
Due to COVID-19, Group Activities are not available at this time.
"We organized this event to catch up with each other and spend some time in the sun before it gets cold again... The weather was perfect for a paddle and we were all able to hang out."

- Rebecca, Private/Group Paddle
Questions? Check out our FAQs and pricing structure.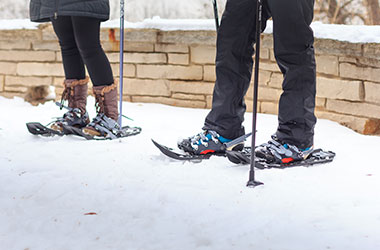 Venture out onto frozen Lake Mendota! Join us for a 2-3 hour guided snowshoe trek from Memorial Union to Picnic Point and warm up with a bonfire and refuel some s'mores.  Bring your friends, family, or coworkers for a winter experience you'll never forget!
Cost: $25-35 per person
Group Size: 2-18 people
---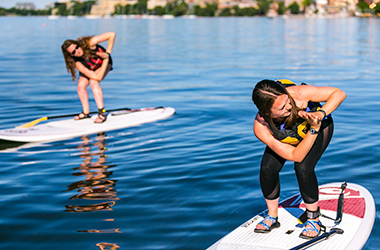 Help your team find inner calm with a private yoga class on the Terrace or on the water. With a private yoga experience, you decide who you want in your class and whether you want to find zen on the Terrace or on the lake. We can fit our practice to your needs!
Cost: $15-24 per person/hour
Group Size: 4-24 people
---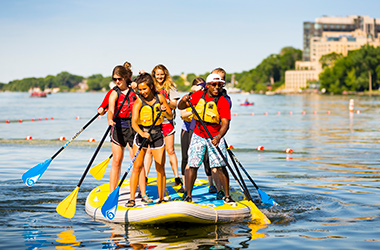 Rent the SUP Squatch, an 8-person standup paddleboard, and work as a team to propel and steer this behemoth. Whether it's a success or a navigational bust, taking this monster inflatable SUP out on Lake Mendota will be a memorable adventure.
Cost: $40/hr
Group Size: 4-8 people

---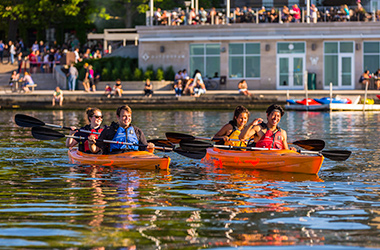 Ditch the fluorescent lights of the office for natural light and a new perspective. Come have your group learn the basics of paddling from one of our awesome instructors, and hold a floating meeting on the lake.
Cost: $15-24 per person/hour
Group Size: 2-24 people

---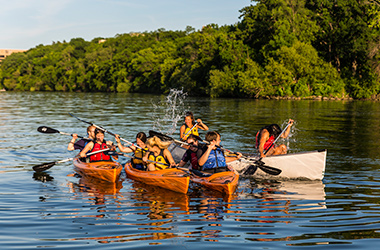 Fun and games feel fresh and exciting when you put them into action on the water. We'll work with you to determine what games will play best with your group. We can also include team building activities for those interested.
Cost: $15-24 per person/hour
Group Size: 2-24 people

---
Want to learn how to paddle? Head out with an instructor on a kayak, canoe or standup paddleboard. Tips and tricks for the novice or beginner paddler will make your time on the lake more enjoyable. 
Cost: $15-24 per person/hour
Group Size: 2-24 people
---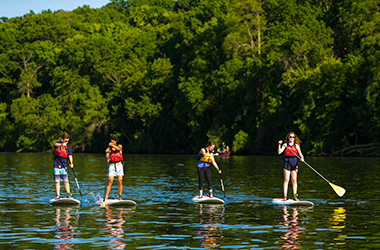 Looking to head out on the lake with a group? With a morning reservation, you can ensure that you have the equipment you need at the time you want it. We will send you out with an instructor and your group can explore the lake in its bright-eyed beauty, or take a bagel break at Picnic Point.
Cost: $15-24 per person/hour
Group Size: 2-24 people
---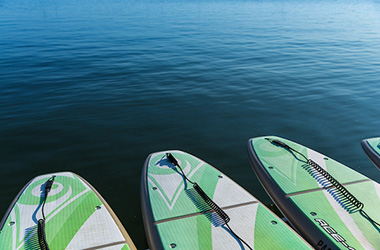 Want to do something active and outside but don't see exactly what you have in mind? The best part about working with us is that we love a good challenge. Let us know what you're looking for and we'll find a way to make it happen. We can combine aspects of the activities you see above, or we can create a program unique to your group.
Call us at (608) 262-1630 or email ouwpaddling@union.wisc.edu to chat about options. 
---
Need a different kind of group activity? Whether your crew is artistic or just wants to play games, we can help you craft the perfect group activity and catering needs to fit your budget and goals. 
---