FLASH SALE: Use code HEALTHYMIND at checkout to save $20 off general admission tickets or $5 off student tickets.
Join "America's soprano" Renée Fleming, Dr. Jenny Saffran, and Dr. Jacquelyn Kulinski for an in-depth conversation about the role of music and the arts in health. Through Music and the Mind, Ms. Fleming brings top neuroscientists, doctors, and artist together for conversations delving into the impact of the arts on the brain. The conversation promises to delve into some of the most fundamental questions of how we experience music emotionally as well as how we can improve our own mental well-being with the help of the arts.
Presenters:
Dr. Jenny Saffran is the Vilas Distinguished Achievement Professor of Psychology at UW-Madison, and the Principal Investigator of the NIH-funded Infant Learning Lab at the Waisman Center. Her research focuses on how infants learn, particularly in the areas of language and music. She received her BA from Brown University (1991) and her Ph.D. from the University of Rochester (1997). Dr. Saffran's interest in the psychology of music was sparked by her training as a classical violinist and vocalist, including a summer as a student in the Aspen Opera Theater program. She has been a member of the UW-Madison faculty since 1997, and is currently the Faculty Director of the College of Letters & Science Honors Program.
Dr. Jacquelyn Kulinski, MD, is Director of the Preventive Cardiology Program and Associate Professor of Medicine at the Medical College of Wisconsin with a secondary appointment as Associate Professor in the Graduate School of Biomedical Sciences. She is a board-certified cardiologist with a strong interest in preventive cardiology and provides individualized and comprehensive cardiovascular risk assessment to patients.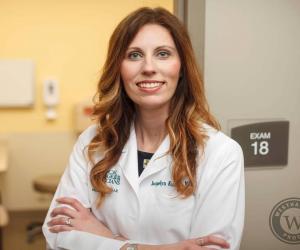 Dr. Kulinski earned her medical degree from the Medical College of Wisconsin. She completed a residency in internal medicine at the University of Washington in Seattle, and then completed a fellowship in cardiovascular medicine at the University of Texas Southwestern Medical Center in Dallas. She holds a certificate in clinical and translational science from the Graduate School of Biomedical Sciences at the medical college. Dr. Kulinski is board-certified in cardiovascular medicine, adult echocardiography, nuclear cardiology, and cardiovascular computed tomography. She is a fellow of the American Society of Preventive Cardiology.
Much of her research has focused on the role of diet and lifestyle behaviors in heart disease. Dr. Kulinski is interested in understanding mechanisms of how "sitting disease" contributes to cardiometabolic heath risk and the role of preeclampsia as a risk factor for future cardiovascular disease in women. Over the last couple of years, she has collaborated with music professors and music therapy teams to study the impact of singing on vascular endothelial function. This collaboration led to the NIH R61 grant "Evaluating the Impact of Singing Interventions on Markers of Cardiovascular Health in Older Patients with Cardiovascular Disease" – which is now in its third year of subject recruitment.
Single tickets available now.

General Admission: $50/$40/$30
UW-Madison Students: $10
More Ways to see Renée Fleming:
Performance Studio Class
Friday, April 29, 2022
Collins Recital Hall, Hamel Music Center
4 PM | In-person only
This event is free, but tickets are required.
Recital
Saturday, April 30, 2022
Shannon Hall, Memorial Union
7 PM | In-person only
Click here for the most up-to-date information about COVID-19-related health and safety protocols.