Copycat Saffron Falafel
Posted: 05/12/20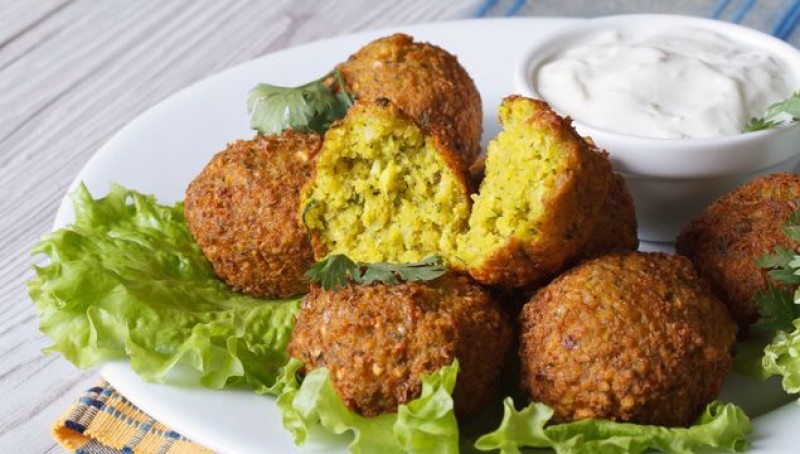 Crispy falafel balls paired with our recipe for tzatziki sauce make a perfect substitute when you're missing Saffron! Plan ahead for this one, you'll need time to soak the chickpeas overnight! This recipe also uses a food processor. 
Ingredients 
1 lb. Chickpeas, soaked overnight 

1 tbsp Baking Powder 

1 cup All-Purpose Flour 

1 large onion, cut into 8 pieces  

1/4 cup Parsley, chopped 

1/3 cup Cilantro, chopped 

10 Garlic Cloves 

1 1/2 tbsp Kosher Salt 

1/2 tsp Cayenne 

1/2 tsp Black Pepper 

1 tbsp Cumin, ground 

1 1/2 tsp Coriander, ground 
Recipe
Soak 1 lb. package of chickpeas overnight 

In a food processor, combine chopped onion pieces, parsley, cilantro, garlic cloves, salt, pepper, cumin, coriander and cayenne. Pulse until a fine mixture. 

Drain the chickpeas and add to the food processor. 

Pulse ingredients until finely chopped. 

Once sufficiently chopped, transfer to a mixing bowl. 

Add flour and and baking soda and mix together until combined. 

Allow to rest for ten minutes. 

Portion falafel "dough" into 1 1/2 inch balls and flatten using hand or spatula. 

Using a skillet, add enough vegetable oil to come up the side 1/3 inch. Heat over medium heat until oil reaches 325 degrees. 

Pan fry falafel until golden brown on both sides (approximately 2.5 minutes per side)

Serve on a pita with romaine lettuce, tomatoes, and tzatziki sauce, and enjoy!