Copycat Ginger Root Sesame Chicken
Posted: 04/27/20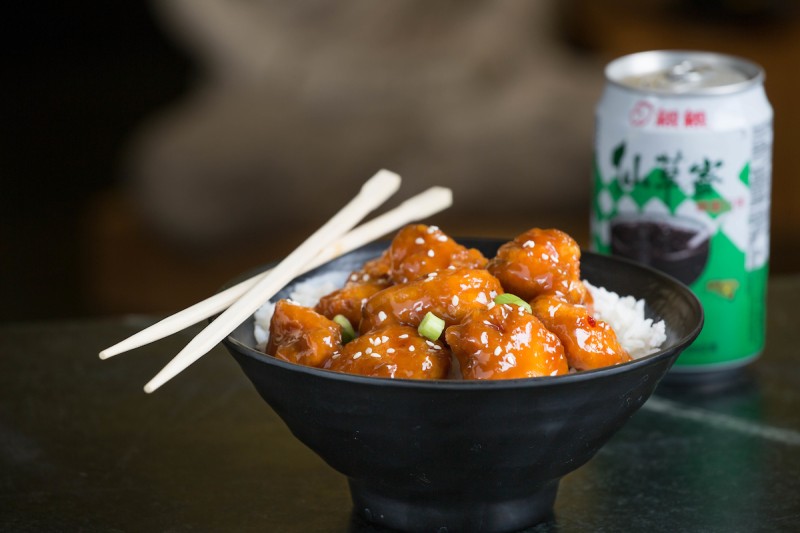 Satisfy your craving for Ginger Root with this Copycat Sesame Chicken recipe! Lunch rush line not included. Looking for a vegetarian option? Make this dish meatless by substituting roasted cauliflower or breaded broccoli instead! 
Ingredients 
1 1/2 lbs of Store-bought Popcorn Chicken 
1 tsp Vegetable Oil 
2 tsp Garlic, minced 
2 tbsp Green Onion, sliced (divided) 
1/2 cup Soy Sauce 
1/4 cup Chicken Stock 
1/4 cup Ketchup 
1/4 cup Honey
3 tbsp Light Brown Sugar
3 tbsp Rice Wine Vinegar 
3 tbsp Sambal Olek Chili-Garlic Sauce 
2 tbsp Sesame Oil 
4 tsp Cornstarch 
2 tbsp Sesame Seeds
Recipe 
Bake 1 1/2 pounds of popcorn chicken as directed on package 

In a large skillet, heat vegetable oil over medium heat. Add the garlic and half of the green onions. Sauté until aromatic. 

Add soy sauce, rice wine vinegar, sesame oil, chicken stock, Sambal Olek Chili-Garlic sauce, honey, ketchup and brown sugar and mix ingredients together. 

Add cornstarch and whisk to remove any lumps. 

Bring sauce to a boil. 

Add cooked chicken and sesame seeds directly to saucepan. Toss until evenly coated. 

Garnish with remaining green onions. 

Serve over a bed of jasmine rice (optional) and enjoy!