Wisconsin Union will hold Veterans Day event Nov. 12
Posted: 11/01/18
In observance of Veterans Day, the Wisconsin Union team will hold an event on Nov. 12 at 9 a.m. in Memorial Union's Main Lounge.
The Veterans Day event will include remarks at 9:30 a.m. by the Student Veterans of America UW-Madison Chapter President Sean Jackett, UW-Madison Veteran Services Coordinator Joe Rasmussen, and Wisconsin Union Director Mark Guthier. The event will also include free refreshments on a first come, first served basis and is open to the community.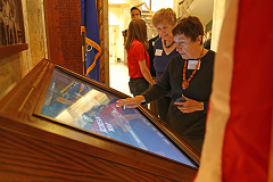 The Union is holding this event in recognition of the heroism of Badgers who have served our country, including fallen UW-Madison service members.
"We are honored to bring the community together for this event and to have the opportunity to acknowledge our veterans' sacrifices and service," Guthier said.
More than 1,000 fallen university heroes' stories can be found in the Union's electronic Gold Star Honor Roll, which is available at uwgoldstarhonorroll.org, on a computer in the Hamel Family Browsing Library, and on a kiosk outside of the Main Lounge.
Memorial Union's ties to service members began 90 years ago with the dedication of the building as a memorial to UW-Madison's service members in 1928.
In addition, the names of more than 200 Badgers who died in active duty are inscribed on wooden plaques on the walls of the Memorial Union's Memorial Hall, outside of Main Lounge.
"This Veterans Day, through this event and others with multiple partners, including the Wisconsin Union, UW-Madison Libraries, and College Democrats and Republicans, we hope to highlight the service of Badger veterans both past and present," Jackett said. We are grateful for the Wisconsin Union's support, as the Memorial Union is our most prominent symbol of veterans on campus."
More than 600 veterans and service members attend UW-Madison. Rasmussen is one of the team members at the university's Veteran Services & Military Assistance Center who are dedicated to serving student veterans and service members as well as their dependents.
In addition to the Wisconsin Union-hosted event at Memorial Union, on Nov. 12, the UW-Madison chapter of Student Veterans of America will co-host a Veterans Day display on Bascom Hill along with College Republicans of UW-Madison and College Democrats of UW-Madison. The community is invited to be part of this display by placing flags on the Hill for veterans in their lives.
Click here for more information about the Veterans Day event at Memorial Union.