Beloved Tudor Holiday Dinner Concerts will bring festive food, music and pageantry to Memorial Union Nov. 30-Dec. 4
Posted: 10/03/22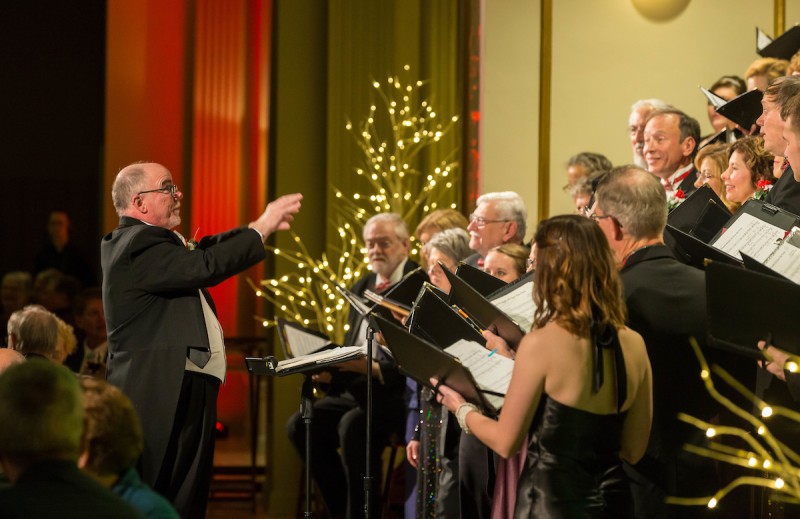 The Tudor Holiday Dinner Concerts will return to Memorial Union's Great Hall for five nights of holiday music and dining from Nov. 30 to Dec. 4. The dinner concerts did not occur in 2020 or 2021 due to COVID-19, so this year marks a return to the in-person, time-honored celebration of warmth, fellowship and history.
Each evening of this beloved Wisconsin Union tradition will feature a delicious feast, a grand processional, old English pageantry, a Yuletide toast and choral performances by the Philharmonic Chorus of Madison, Madison's premier a cappella chorus. New Choir Director Clare Malinowski will lead Chorus members and audience members in joyful carols throughout the evening.
This year's brand-new dinner menu, crafted by the Wisconsin Union catering team, features entree options of maple-glazed pork tenderloin with mustard fingerlings or a vegetarian maple-glazed acorn squash; sides of caramelized onion and apple chutney and herb-buttered carrots and green beans; and a dessert of flaming figgy pudding with hard sauce. Prior to dinner, patrons will also enjoy wassail, a hot mulled cider delight and a Tudor Holiday Dinner Concert tradition.
Tickets to the Tudor Holiday Dinner Concerts will go on sale on Oct. 19 on the event website. Patrons can choose between four different ticket prices, depending on the type of table and the patron's Wisconsin Union membership status. Seats at a four-person cabaret table are $75 per person for Wisconsin Union members and $85 for nonmembers, while seats at a 10-person oval table are $65 for members and $75 for nonmembers.
"I'm excited and honored to be a part of the Philharmonic Chorus of Madison and the fabulous Tudor Holiday Dinner Concerts," said Philharmonic Chorus of Madison Director Clare Malinowski. "I hope this year's dinners leave new and returning guests feeling joyful and light as we bring back live performances. I'm thankful to be a part of this treasured tradition while introducing a fresh spirit that is welcoming and warm to all attendees and participants."
The schedule for the evening includes wassail and hors d'oeuvres at 5:30 p.m., dinner at 6:30 p.m., and choral presentations throughout the night.
While there is no dress code for the event, most guests dress in semi-formal attire. Guests may choose to wear Renaissance period costumes if they so desire.
The Tudor Dinners at the University of Wisconsin-Madison date back to 1933, when a group of community singers, under the direction of professor Edgar B. Gordon, agreed to sing a Christmas program at the University Club and the Wisconsin Union. The idea for the holiday dinners was borrowed from the Todd Union at the University of Rochester in Rochester, New York, where a legend of English pageantry crossed the Atlantic Ocean from England.
According to the legend, an Oxford University student once saved a scholar from a wild boar attack. The Tudor Holiday Dinner Concerts pay homage to this story with a presentation of a boar's head prior to serving dinner.
The Philharmonic Chorus of Madison first performed at the Tudor Holiday Dinners in 1972, led by then-Director Samuel L. Jones, and in 1973 the event became known as the Tudor Holiday Dinner Concerts. Today, more than 50 members make up the Chorus, an audition-only a capella group that has shared music with the Madison community since 1946. The Chorus performs in two concert series each year: the Tudor Holiday Dinner Concerts and three spring performances.
Ticket and event information about the Tudor Holiday Dinner Concerts is available at union.wisc.edu/events-and-activities/special-events/tudor-holiday-dinner-concerts.