Wisconsin Union team, supporters celebrate Tong Family Marina
Posted: 09/23/19
On Sept. 20, the Wisconsin Union team and Tong Family Marina stakeholders celebrated the Tong Family Marina reaching a point in construction in which sailing lessons and other activities can occur at the new, state-of-the-art marina.
The marina features infrastructure that enhances accessibility and efficiency on the lakefront. The newly constructed marina will benefit thousands of members of the Wisconsin Hoofers, an outdoor recreation club, and Outdoor UW customers each year.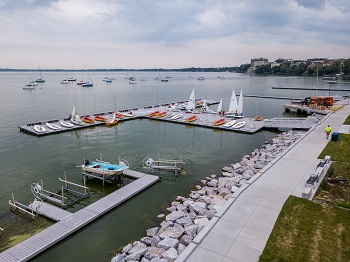 Located along the Memorial Union lakefront, the marina includes a floating t-pier system, which houses the Hoofer Sailing Club's fleet of 420s and Badger Techs; frees up space along Lakeshore Path for the creation of a new greenspace; and provides more on-land space for programming.
Work below Lake Mendota's surface has been done to prevent shoreline erosion with the installation of new, angular stones.
More than 150 project supporters gathered at the Tong Family Marina for a celebration of the project on Sept. 20, which included remarks by members of the Tong family, who made a $1 million gift to the project; Chancellor Rebecca Blank; Vice Chancellor for Student Affairs Lori Reesor; as well as a Wisconsin Union team member and student leader.
The marina is named in acknowledgement of the Tong family's critical donation and in honor of the family's dedication to the Wisconsin Hoofers. The Union team continues to accept donations towards the marina, which is funded by private donations and Wisconsin Union operating funds.
More than 1,000 Hoofer Sailing Club members enjoy sailing activities at the Tong Family Marina, including a summer youth sailing program. The Hoofer Sailing Club has provided affordable sailing equipment and instruction to its members since 1939.
"We are excited for the Tong Family Marina to be put to use and are glad to have already witnessed the positive impact the marina is having on people in our community," Wisconsin Union Director and Associate Vice Chancellor for Student Affairs Mark Guthier said.
The Wisconsin Union team held a groundbreaking ceremony for the marina project on Sept. 15, 2018.
The Hoofer Sailing Club is one of six outdoor clubs offered by the Wisconsin Union's Wisconsin Hoofers. The Wisconsin Hoofers is one of the largest and oldest organizations on the University of Wisconsin-Madison campus. The clubs aims to help people of all abilities learn outdoor skills; and provide leadership development, community development and civic engagement opportunities as well as fun activities and events.
Those interested in learning more about or donating to the Tong Family Marina project may visit union.wisc.edu/get-involved/donate.