Renée Fleming Gala Concert tickets will go on sale to the public Feb. 3
Posted: 01/27/20
Tickets to world-renowned vocalist Renée Fleming's Gala Concert will go on sale to the public Feb. 3 for $120.
The concert will take place on May 2 at 6 p.m. in Shannon Hall at Memorial Union. Fleming will make her Shannon Hall debut with pianist and Wisconsin Union Theater Concert Series veteran Inon Barnatan.
This is the first opportunity to purchase tickets to Fleming's performance without purchasing a subscription for all eight Concert Series performances.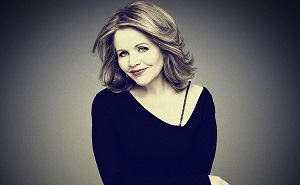 Fleming is one of the world's most celebrated sopranos. The Tony Award-nominated singer has performed at the Nobel Peace Prize ceremony, the Diamond Jubilee Concert for Queen Elizabeth II at Buckingham Palace and the 2014 Super Bowl. In 2013, she was awarded the National Medal of Arts. Her voice can be heard in Best Picture Oscar winner "The Shape of Water" as well as operas, indie rock, jazz and the "The Lord of the Rings" soundtrack.
"She is an incredible musician who rarely performs in settings as intimate as Shannon Hall these days," said Amanda Venske, Wisconsin Union Directorate (WUD) Performing Arts Committee Concert Series coordinator. "With many days of fame singing at the Metropolitan Opera in New York, Ms. Fleming still performs and also promotes arts advocacy and arts leadership. She has many talents that are a true testament to her commitment to the arts."
Student-priced tickets for her performance will go on sale on a to-be-announced date in spring 2020.
This concert marks the finale of the Wisconsin Union Theater's 100th Anniversary Concert Series, which includes seven other performances primarily focused on recitals and chamber music. The Concert Series is the longest running classical music series in the Midwest. For the past 99 years, nearly every important concert artist and chamber ensemble that has toured the U.S. has appeared as part of the Concert Series.
The Wisconsin Union Theater will announce the schedule for the 2020-21 Concert Series in spring 2020.
The Wisconsin Union Theater is a cultural activity hub that has had an extensive history of appearances by extraordinary individuals, including Louis Armstrong and Eleanor Roosevelt. Actors, dancers, political figures, philosophers, scientists and more have graced the Wisconsin Union Theater's stages and engaged the minds of Wisconsin Union Theater audiences for more than 75 years.
The student-led WUD Performing Arts Committee plans events at the Wisconsin Union Theater, including the Concert Series. The Committee provides UW-Madison students with leadership and hands-on learning opportunities, including marketing, communications, programming, event management, budget planning and more.
More information about Renée Fleming's performance, including how to purchase tickets, is available here.