Wisconsin Union will unveil reinstalled Paul Bunyan Room murals Oct. 5
Posted: 10/01/18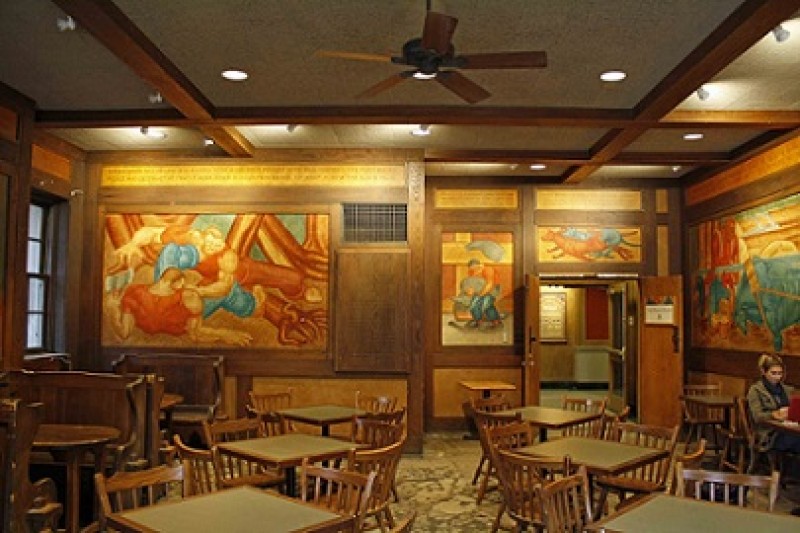 After being stored for six years during Memorial Union construction, the Wisconsin Union team will unveil reinstalled Paul Bunyan murals by artist James Watrous in Memorial Union's Paul Bunyan Room Oct. 5 at 5:30 p.m. as a part of Gallery Night.
The event, which is open to the public, will begin with the debut of the returned murals followed immediately by remarks by Wisconsin Union Director Mark Guthier.
The murals, painted by Watrous from 1933 to 1936, depict folktales of giant lumberjack Paul Bunyan and his blue ox Babe. Watrous used delicate egg tempera, an oil-based paint, to create the 40-piece mural set.
The Union team in collaboration with the Midwest Art Conservation Center carefully removed and preserved the fragile paintings in June 2012 due to the Memorial Union Reinvestment project, a multi-year effort to restore and enhance the Memorial Union. The Union team stored the murals off-site to prevent damage from building vibrations. This construction effort concluded in fall 2017.
"After being on display for more than 70 years of Memorial Union's 90-year history, the murals have become an important part of many guests' visits," Guthier said. "We are excited that the Paul Bunyan Room murals will once again be part of the immersive art experience at Memorial Union."
Along with the unveiling of the murals, the Wisconsin Union will hold additional art-related events as part of Gallery Night. Other events in Memorial Union include exhibitions in the Main Gallery and Class of 1925 Gallery, and multiple Free Art Friday festivities in Wheelhouse Studios, including Guatemalan worry doll-making, Brazilian samba performance and free mini-dance class, Latinx-inspired appetizers, and a display by the UW Latinx Heritage Month Committee.
Gallery Night is a long-time Madison tradition dedicated to showcasing the city's arts community each spring and fall. The event offers community members the opportunity to experience art-related exhibitions and special events throughout the city, such as the unveiling of the Paul Bunyan murals.
Those who would like to learn more about Gallery Night events at Memorial Union may visit union.wisc.edu/events-and-activities/event-calendar/event/gallery-night.