Renowned trumpeter Pacho Flores and UW Symphony Orchestra to blend tradition and innovation on March 5
Posted: 02/14/22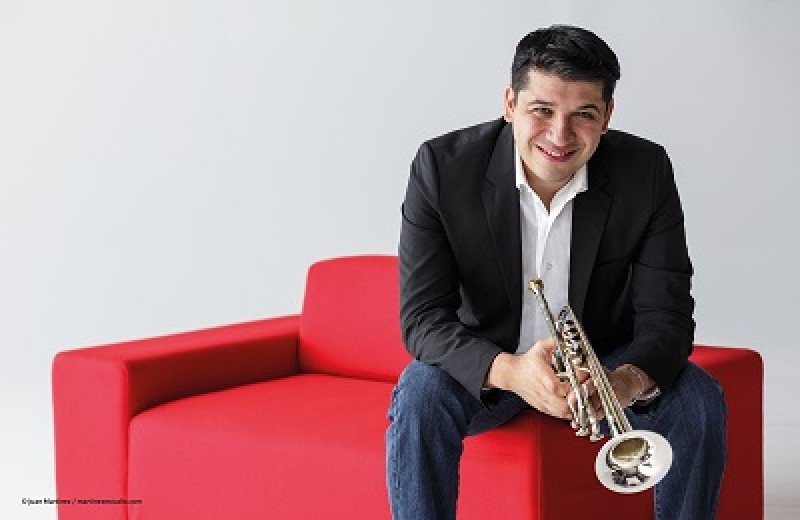 Distinguished trumpet soloist Pacho Flores will guest solo with the University of Wisconsin–Madison Symphony Orchestra (UWSO) during a night of world-class music on March 5 at 7:30 p.m. 
Flores and UWSO will perform in the Mead Witter Foundation Concert Hall at the Hamel Music Center as part of the 2021-22 Wisconsin Union Theater Concert Series, supported in part by the Mead Witter School of Music. 
Trained by Venezuela's esteemed El Sistema program for youth and children's orchestras, Flores is a Deutsche Grammophon exclusive artist and one of the most celebrated trumpeters in the world. He has won four international competitions, including the Maurice André International Trumpet Competition, known as the world's most prestigious trumpet contest.
Flores will perform Arturo Márquez's "Concierto de Otoño" with the UWSO during the concert, a piece that Flores premiered in 2018, as well as "Morocota," an original composition. UW–Madison Mead Witter School of Music Assistant Professor and Director of Orchestral Activities Oriol Sans designed and created the program as follows:
Alberto Ginastera, Four Dances from Estancia, Op. 8

Los Trabajadores Agrícolas ("The Land Workers")
Danza del Trigo ("Wheat Dance")
Los Peones de Hacienda ("The Cattlemen")
Danza Final (Malambo) ("Malambo–Final Dance")

Arturo Márquez, Concierto de Otoño

Son de Luz ("Dance of Light")
Balada de Floripondios ("Ballade of Floripondios")
Conga de Flores ("Conga of Flowers")

Pacho Flores, Morocota

Wolfgang Amadeus Mozart, Symphony No. 41 in C Major, K. 551, "Jupiter"

Allegro vivace
Andante cantabile
Menuetto: Allegretto
Molto allegro
"We're very excited about this second collaboration with UW Symphony Orchestra," Wisconsin Union Theater Director Elizabeth Snodgrass said. "The collaboration with pianist Wu Han back in March 2020 was outstanding, and there was mutual affection between Wu Han and the orchestra. I predict Pacho Flores will bring the same passion for the music and students and will wow us all with his impeccable technique."
Flores's bright and energetic tone fuses jazz and Latin American inspirations with his classical training. In addition to performing as a soloist and recitalist in renowned concert halls worldwide, Flores mentors young musicians as the founding director of the Latin American Trumpet Academy in Caracas, Venezuela.
Sans will conduct approximately 80 student musicians who make up the UWSO. 
Patrons can purchase a ticket to the in-person concert or a virtual live stream of the performance through the event webpage or at the Memorial Union Box Office.
The Wisconsin Union Theater's Concert Series is the longest-running classical music concert series in the Midwest, spanning 102 years. This year's season features performances by a wide variety of artists to inspire audiences during this return to in-person events.
Patrons and team members are required to follow the current University of Wisconsin–Madison health and safety protocol of wearing a face covering when indoors on campus, unless actively eating or drinking. The Wisconsin Union Theater team will continue to monitor and follow university guidelines. 
Click here for more information about the Pacho Flores performance with UWSO.