Wisconsin Union returns Lady Liberty to Lake Mendota
Posted: 02/01/19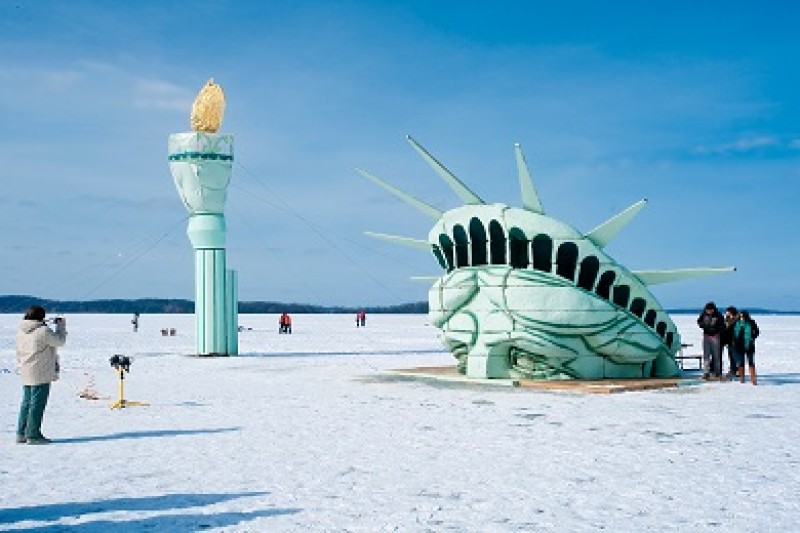 In a surprise addition to the annual Winter Carnival, the Wisconsin Union brought the Statue of Liberty tradition back to Lake Mendota Feb. 1 as a to-scale, inflatable replica of the Statue's head, arm and torch.
This marks the return of a decades-old tradition of placing Styrofoam portions of Lady Liberty on frozen Lake Mendota.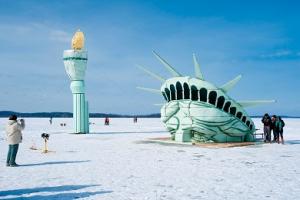 The Statue of Liberty tradition began with a prank in 1979 by the Pail and Shovel Party, which was led by UW-Madison alumni Leon Varjian and Jim Mallon '79. Varjianand Mallon made a campaign promise that, if elected to the Wisconsin Student Association, they would bring the Statue of Liberty to Madison.
After a successful election, the Pail and Shovel Party stayed true to their Lady Liberty promise by erecting a Styrofoam Lady Liberty head, arm and torch on Lake Mendota Feb. 22, 1979.
Wisconsin Union President and University of Wisconsin-Madison senior Mills Botham led this year's effort to create the inflatable version of the Statue of Liberty.
"The Idea to return Lady Liberty to Lake Mendota as part of Winter Carnival is one that I've been working for about two years," Botham said. "This was the first year that I found a practical means of making its revival possible."
The new Lady Liberty will allow for faster setup, will require less storage space, and is made of more durable polyester blend dye sublimated fabric.
The Statue of Liberty is expected to be available for viewing Feb. 1 from 10:30 a.m.-9 p.m. and Feb. 2 from 9:30 a.m.-4:30 p.m., as conditions allow.
Before this re-creation of Lady Liberty, the Styrofoam Statue of Liberty was last seen on Lake Mendota in 2010. The Union team is aiming to reinstitute Lady Liberty on Lake Mendota as an annual Winter Carnival tradition.
In addition to the return of this legend to its Lake Mendota home, the Wisconsin Union's Winter Carnival includes more than a dozen events and activities, including live music, arts and crafts, yoga, and more. The Carnival continues through Feb. 3.
Put on by the Wisconsin Union team since 1940, Winter Carnival provides ways for the community to take part in outdoor recreation and celebrate winter.
All members of the community, including UW-Madison staff, faculty and students as well as Wisconsin Union members and guests are invited to experience the Carnival, including visiting the new Lady Liberty on Lake Mendota.
To learn more about the Winter Carnival, including the full schedule of events and activities, visit union.wisc.edu/wintercarnival.