Acclaimed ethologist and conservationist Jane Goodall to reflect on time in Tanzania and climate future at free event at Memorial Union
Posted: 02/27/23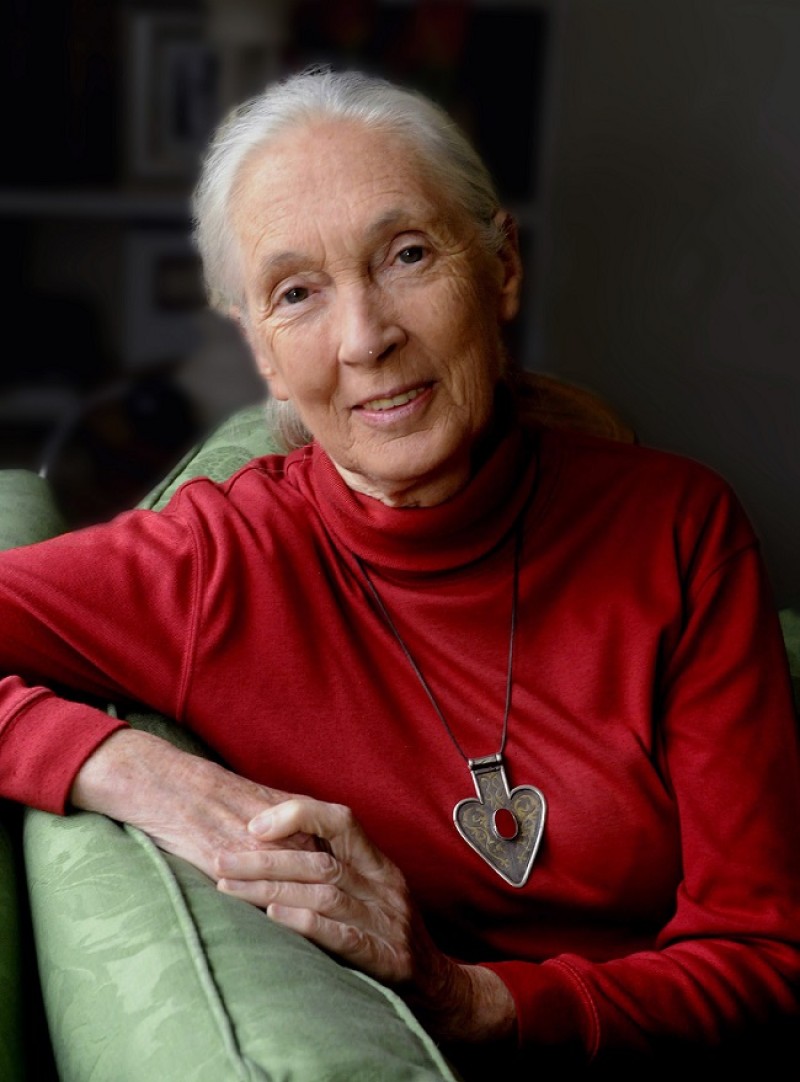 Dr. Jane Goodall – esteemed ethologist and conservationist, dame of the British Empire, founder of the Jane Goodall Institute, United Nations Messenger of Peace and the first scientist to share formal observations of the intelligent and emotional behavior of wild chimpanzees – will share her story and hope for the environmental future at a free Wisconsin Union Directorate (WUD) Distinguished Lecture Series (DLS) Committee-hosted talk on March 26 at 7 p.m. in Shannon Hall at Memorial Union.
The event, titled "An Evening with Dr. Jane Goodall: Inspiring Hope Through Action," will include a 90-minute speech and Q&A with Goodall. The event is free, but tickets are required. Current University of Wisconsin–Madison students may register for tickets on March 6 at 10 a.m. Students will require a promo code, which they will receive via email, to acquire their ticket. Any remaining tickets will become available to the general public on March 8 at 10 a.m., with a limit of two tickets per person. Starting March 8 at 10 a.m., all are welcome to register for the virtual livestream. Ticket registration for the in-person event and the livestream is available here.
Goodall was the first ethologist to note wild chimpanzees making and using tools – as well as demonstrating compassion, altruism and strong maternal bonds. Her findings challenged conventional notions about other great apes and that humans greatly differed from other species, including the notion that humans being "tool-makers" distinguished them from the rest of the animal kingdom.
An involved activist since 1986, Goodall is the founder of the Jane Goodall Institute (JGI), a global nonprofit organization that supports advancing science, community-led conservation, forest restoration and protection, animal welfare and advocacy, as well as youth empowerment. Roots & Shoots, JGI's youth program, gives young people in more than 60 countries resources to tackle environmental and social issues in their communities.
Goodall is the author of "My Friends, the Wild Chimpanzees," which describes her behavioral findings on chimpanzees. In 2021, Goodall received the Templeton Prize, The TIME team featured her on the cover of one of its issues, and she released her latest book "The Book of Hope: A Survival Guide for Trying Times," which chronicles her life's work and her optimism that humankind will come together to protect the environment. Spring 2023 marks her first full, in-person tour since 2019.
She has received many prestigious awards, including the Benjamin Franklin Medal in Life Science, the Kyoto Prize and the Gandhi-King Award for Nonviolence.
"This planet – it doesn't have infinite natural resources," Goodall said in an interview with CBS News. "The key important thing is to give people hope that we can get through because if you don't have hope, why bother?"
The WUD DLS Committee brings engaging and influential people to the UW–Madison campus to encourage thought-provoking conversations. WUD includes 11 committees and six Wisconsin Hoofers clubs that program thousands of events each year.
This event is made possible, in part, with support from the Nelson Institute of Environmental Studies, the UW–Madison College of Letters & Science, the UW–Madison Office of Sustainability, the UW–Madison Environmental Awareness Fund, the UW–Madison Division of Facilities Planning & Management; Carleton Holstrom, Mary Beth Kineke and the Holstrom Kineke Environmental Studies Fund.
Patrons can learn more about the upcoming free talk featuring Goodall here.