Social Justice Hub open house will highlight education, involvement opportunities for students
Posted: 09/20/19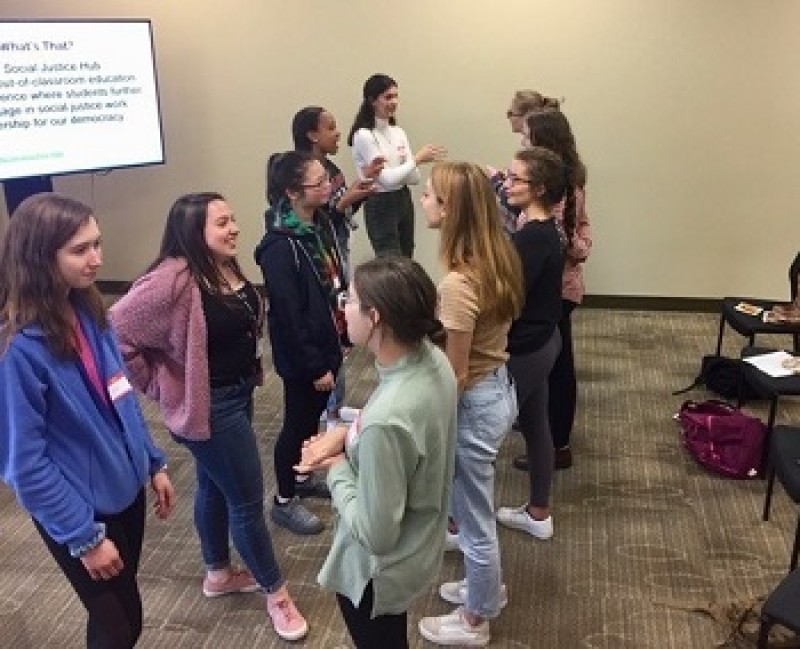 The Wisconsin Union's Social Justice Hub team will hold an open house for University of Wisconsin-Madison students Sept. 23 6-8 p.m. at Union South.
At the open house, students will have the opportunity to learn about ways to get involved with the Hub, including creating educational activities and workshops and joining action teams.
The open house will include free pizza for UW student attendees, while supplies last, and a tour of the Hub's office at Union South.
The open house gathering location will be available on digital screens throughout Union South on Sept. 23. The Hub team encourages all students who want to support social justice issues to attend and learn about what the Hub offers.
"The Social Justice Hub provides opportunities for students to work towards making a difference in the quality of life for all through research, collaboration and learning," Social Hub Director Jim Rogers said. "Whether students are working on class projects, as part of teams, or are leaders in student organizations on campus, we encourage students to come and learn about how to get involved."
Established in 2019, the Wisconsin Union's Social Justice Hub provides purposeful, out-of-classroom education for students seeking resources and skill-building opportunities related to social justice.
The Hub creates opportunities for skill development in teamwork, strategic thinking, creative problem-solving, setting goals, communication and leadership.
The non-partisan Social Justice Hub is funded by Wisconsin Union operating revenue and private donations. No taxpayer dollars are used in the Hub's operations, staffing or programming.
The Hub's guiding social justice definition can be found in Bell, Adams & Griffin's text "Teaching for Diversity and Social Justice" and is as follows: "The goal of social justice education is full and equal participation of all groups in a society that is mutually shaped to meet their needs. Social justice includes a vision of society that is equitable and all members are physically and psychologically safe and secure."
Those interested in learning more about the Social Justice Hub may visit union.wisc.edu/SocialJusticeHub.