Wisconsin Homecoming Committee and Wisconsin Union invite all to Homecoming 2021 events
Posted: 10/11/21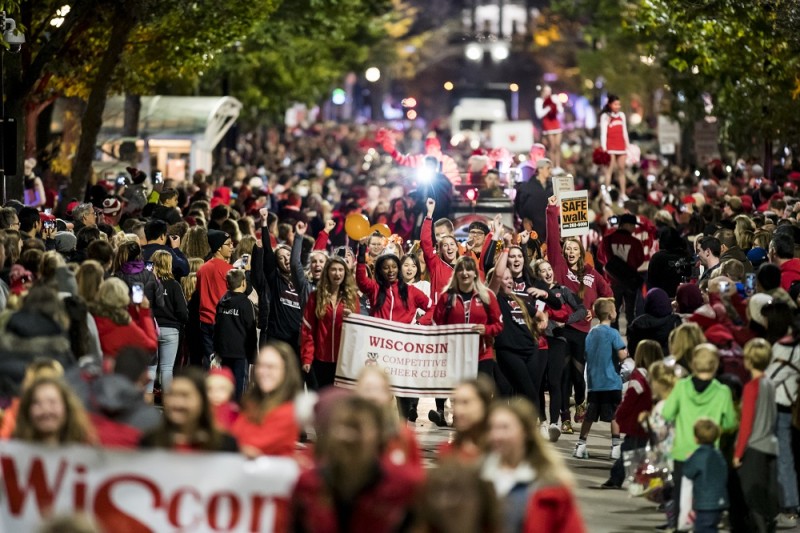 Note: The Parade start time has changed to 5:30 p.m. 
After a 2020 Homecoming of completely virtual festivities, the Wisconsin Homecoming Committee and the Wisconsin Union invite all to Homecoming festivities Oct. 24-31, including a parade, free hot chocolate, a Badger Bash tailgate celebration and more. 
Some of the events attendees can experience include the following:
Attendees can read the most current list of events here: wiscohoco.com/2021-homecoming-events. The Committee, the Wisconsin Union and others will continue to add events to the calendar. The Committee encourages attendees to monitor the events listings to plan their Homecoming activities. All events are free and open to the public. 2021 marks the 110th anniversary of homecoming celebrations at UW‒Madison.
One of the most beloved Homecoming traditions, the Homecoming parade, will return with Bucky Badger; the UW Spirit Squad; the Bucky Wagon; the UW Alumni Band; the Black Star Drum Line; the Mad Area Jugglers; the University of Wisconsin Marching Band; circus artists from Head Over Wheels, who specialize in the German wheel; high wheel bicyclist Jonathan Bee; and professional clown Bingo the Balloon Clown. The Committee and Union-run parade will feature a trick-or-treat with Bucky theme and, in keeping with the theme, plenty of candy for attendees. The parade will begin on Langdon Street at 6 p.m., proceed to Wisconsin Avenue between Langdon Street and Gilman Street, travel along Gilman Street to State Street and then continue to Lake Street. 
Homecoming parade participants will include more than two dozen organizations, including but not limited to the Alpha Kappa Chapter of Kappa Delta Chi Sorority, Inc.; Dance Elite; The Madhatters; Redefined A Cappella; the Wisconsin Premiere Dance Team; Wisconsin Racing; and the Wisconsin Singers.
Numerous campus leaders and talented students will appear in the parade, including Chancellor Rebecca Blank and 2021 Big Ten Track champion and Olympic trial athlete Destiny Huven.
The Committee and the Union invite UW‒Madison registered student organizations (RSOs) and UW‒Madison departments to submit events for the official Homecoming event calendar. Events must take place between Oct. 24-31, be free, be open to the public, and be submitted by Oct. 15. Departments and RSOs can submit events here. 
"I am very excited to be able to bring together the greater campus community through Homecoming Week," Wisconsin Homecoming Committee President Grace Sexton said. "Our committee is thrilled to be able to hold in-person events on campus. I am particularly excited for the Homecoming parade to take place on State Street once again, as it has been my favorite event since I began at UW‒Madison. I look forward to spending a week celebrating with my fellow students, University of Wisconsin‒Madison faculty and staff, and the greater Madison community in just a few short weeks."
The Wisconsin Homecoming Committee is a non-profit, student-run organization that aims to bring together the Badger community to celebrate what it means to be a Wisconsin Badger, whether someone is a Badger or a Badger-at-heart. This year's Committee executive board members include President Grace Sexton, Vice President Samantha Henschel, Director of Marketing and Communications Lara Klein, and Community Events Chair Danny Gattoni.
2021 marks the 110th anniversary of homecoming celebrations at UW‒Madison. Due to COVID-19, the Committee held a virtual version of the festivities in 2020.  The members look forward to celebrating the annual commemoration event in-person. 
In light of COVID-19, patrons must wear face covering indoors when not actively eating or drinking. Guests do not need to wear face coverings outdoors but are welcome to do so. The Committee and the Union appreciate attendees' help in creating a safe Homecoming celebration.
Those interested in attending Homecoming can visit wiscohoco.com for official UW‒Madison Homecoming celebration information.