Wisconsin Union Theater presents world premiere of The Seldoms' dance theater work 'Floe' Jan. 22-24
Posted: 10/17/19
'Floe' to tell story of fragmented global conversation on climate change
The Wisconsin Union Theater will present the world premiere of "Floe," a new dance theater work about climate change by Chicago-based dance company The Seldoms Jan. 22-24 at 7:30 p.m. in Memorial Union.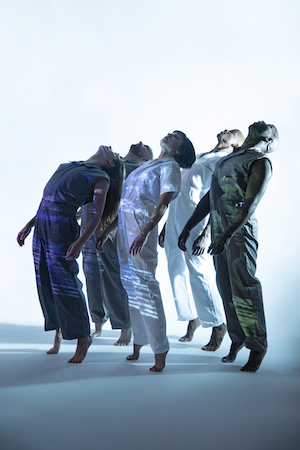 "Floe," created and directed by The Seldoms Artistic Director Carrie Hanson in collaboration with playwright Seth Bockley, tells the story of the fragmentation of the global conversation on climate change, including the impact of global warming on communities from the Gulf Coast to the Arctic Circle.
The Seldoms' work combines movement, images, sound, text and site-specific exploration to bring an embodied response to social, political and cultural complexities. Pieces presented at the Wisconsin Union Theater have also incorporated a community cast of students and other community members, who have worked with the professional company members and performed alongside them.
Each "Floe" performance will guide patrons to move between Memorial Union's Shannon Hall and the Play Circle Theater as Seldoms' artists and local collaborators navigate the narratives surrounding climate change.
"The Seldoms taps into this energy field. Its performers work with art: music, dance, theater to instill a message to their audience," Wisconsin Union Directorate Performing Arts Committee Director Keerthana Sreenivasan said. "'Floe' is not only a show or concert; it's an experience, a learning experience to be more specific."
The work includes projected images by designer Liviu Pasare of a changing Arctic and a flooded Houston on two inflatable icebergs created by visual artist Bob Faust. Sound design by Mikhail Fiksel includes voices from the Arctic region to the Gulf of Mexico, such as segments of interviews with Hurricane Harvey survivors and civilian rescuers.
Performing this work are Seldoms ensemble members Solomon Bowser, Philip Elson, Sarah Gonsiorowski, Damon D. Green and Maggie Vannucci under the direction of Hanson, who also serves as the fall 2019 interdisciplinary artist-in-residence in the University of Wisconsin-Madison Division of the Arts' Interdisciplinary Arts Residency Program.
This is the third time The Seldoms has performed as part of the Wisconsin Union Theater season. Previous works have included "Power Goes" presented in 2017, a piece exploring presidential power through the lens of the Lyndon Johnson administration, and "RockCitizen" presented in 2018, which unpacked the counter-cultural movements of the 1960s.
Tickets are currently available for purchase online and at the Memorial Union Box Office. Tickets are $10 for UW-Madison students, $20 for patrons under 18, $31 for Wisconsin Union members, $33 for staff and faculty, and $35 for the general public.
More information about "Floe" is available at union.wisc.edu/events-and-activities/event-calendar/event/the-seldoms-floe.