Memorial Union First Floor to Reopen Dec. 5
Posted: 11/28/16
Memorial Union's first floor will reopen Dec. 5 at 3 p.m. with the Daily Scoop, Badger Market and Peet's Coffee & Tea serving customers and the availability of comfortable study space.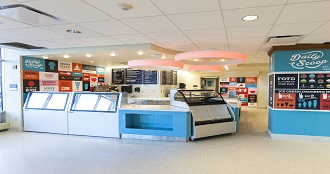 On Dec. 5, the Daily Scoop will debut in its new home with a fresh, retro look and new study break treats. One new menu item will be the "Freshman 15", a shareable, 15-scoop sundae created in celebration of the memories made at Memorial Union.
The Essentials Store will also return but as a Badger Market with a new, modern look and twice as much space to provide everything UW-Madison team members and students on the go need. From this market, the Wisconsin Union team will offer a large selection of grocery and grab-n-go food and beverage items. The Union team will also sell Badger apparel at this one-stop-shop.
Also returning will be the much-missed Peet's Coffee & Tea. The reimagined, contemporary café will offer more space for customers to relax, study and caffeinate.
In addition to reimagined dining offerings, the reopening will also provide students with ample additional campus study space, including seating in der Rathskeller.
"With final exams approaching, offering the first floor to our campus community, especially UW-Madison students, is a priority for us at the Union," said Wisconsin Union Director Mark Guthier.
Additional improvements to the first floor include replacing decades-old plumbing, electrical and HVAC systems; and abating asbestos.
Der Rathskeller and new Memorial Union dining venues, including salad and sandwich café Carte and Italian eatery Strada, are expected to begin serving customers in January 2017.
The Union team will hold a first floor grand opening celebration in January 2017 when all of the floor's restaurants open. The team will make additional details regarding the celebration available at union.wisc.edu/memorial-union in the near future.
The first floor reopening is the most recent development in the larger restoration effort known as the Memorial Union Reinvestment (MUR). MUR is funded by segregated student fees, private donations and Wisconsin Union operating revenue. The Union is a self-supporting organization operating without any tax dollars.
MUR construction began in summer 2012 and is projected to conclude in fall 2017. Those interested in learning more about the reinvestment effort may visit unionreinvestment.wisc.edu.