Art to be en route throughout Madison
Posted: 09/27/17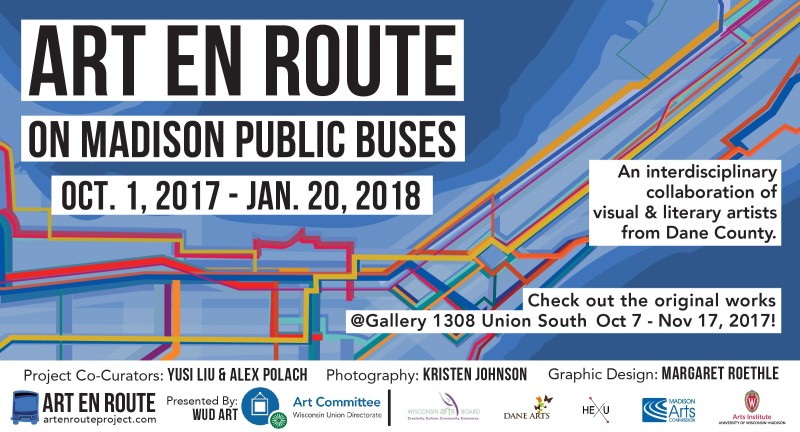 The Wisconsin Union Directorate (WUD) Art Committee's "Art En Route" art project debut on Oct. 1 with eight pieces of art displayed on eight Madison Transit buses until Jan. 1, 2018, and will celebrate the project's debut at an opening reception Oct 7 at 2 p.m. in Gallery 1308 at Union South.
Eight creative writers paired with eight visual artists to create the eight collaborative "Art En Route" works.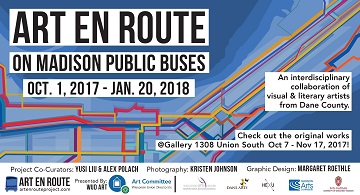 WUD Art Committee members and Madison art community members chose the following Dane County artists to create the project pieces: Mackenzie Berry, Holly Anne Burns, Antonio Byrd, Fabu Phillis Carter, Yeonhee Cheong, Jj D'Onofrio, Brad Foster, Ryan Haimerl, Michael Hirshon, Rebecca Kautz, Heath Langrek, Beth Racette, Gwendolyn Rice, Claude "Bud" Smith, Johnson Vang and Caleb Weisnicht.
"We didn't specify what each pair of artists were to create," said Yusi Liu, "Art En Route" project co-curator and 2016-7 WUD Art director. "It is incredible to see the diverse, thoughtful results of their creative processes."
The Art Committee will also display the "Art En Route" original artwork in Gallery 1308 at Union South from Oct. 7 until Nov. 17, 2017. The committee invites the community to attend the exhibition's free opening reception at Gallery 1308 Oct. 7 from 2-4 p.m.
"This project took over a year to plan and implement," said Liu. "It's exciting to see the pieces come to Union South and to buses, which will really be moving galleries."
Partners in developing "Art En Route" include Project Co-Curators Liu and Alex Polach, the Arts + Literature Laboratory and the Madison Community Discourse.
This collaborative project is made possible by grants from the Wisconsin Union and the Madison Arts Commission with additional funds from the Wisconsin Arts Board; the UW-Madison Center for the Humanities HEX-U program; the UW-Madison New Arts Venture Challenge; and the Wisconsin Arts Board Creative Communities Grant.
This project is also supported by Dane Arts with additional funds from the Endres Mfg. Company Foundation, The Evjue Foundation, Inc., the charitable arm of The Capital Times, the W. Jerome Frautschi Foundation, and the Pleasant T. Rowland Foundation.
Those interested in learning more about "Art En Route" may visit artenrouteproject.com.