Terrace season returns with art, film and music programming traditions as well as new activities
Posted: 05/25/22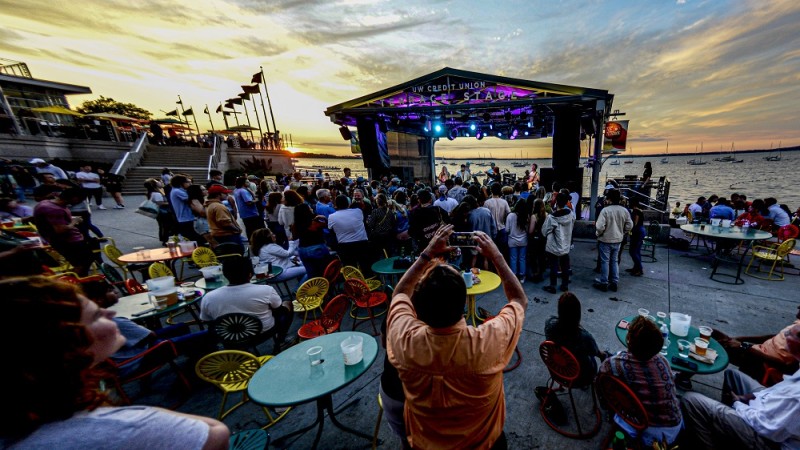 Free and low-cost entertainment is back at iconic Madison summertime lakeside destination the Memorial Union Terrace, including the decades-long traditions of free concerts, free film showings, outdoor events and recreation equipment rentals, and art events as well as new activities.
For more than 90 years, the Wisconsin Union team has hosted events and activities in this more than 30,000-square foot dining and entertainment destination, home to more than 2,000 chairs with a trademarked sunburst design that have come to be a symbol of summer in Madison. The Terrace sits alongside the building Memorial Union, which offers hundreds of additional seats indoors and multiple dining options.
This year marks the return of a full season of traditional in-person Terrace programming after two summers of limited programming due to COVID-19.
New this year, the Union team will host the Terrace Art Cart, which will offer DIY art kits for purchase, as well as Member Thursdays. During Member Thursdays of Terrace season, Wisconsin Union annual and lifetime members can rent paddling equipment from Outdoor UW at a 10% discount and purchase Terrace Art Cart kits at an extra 10% discount in addition to the usual member 10% discount at the Terrace Art Cart. Wisconsin Union members will also receive email invitations to members-only Taste of the Terrace food and beverage tasting experiences on select dates.
The June and 4th of July weekend music lineup includes the following:
Wednesdays - Open Mic Nights at 7 p.m.
June 2 - David Miner at 7 p.m., Knee-High July at 8:30 p.m.
June 3 - Behind the Beat: Tomato Box at 4 p.m., Johannes Wallmann and Precarious Towers at 7 p.m.
June 4 - Gin, Chocolate & Bottle Rockets at 7 p.m.
June 9 - Sparetime Bluegrass Band at 7 p.m., Cork 'n Bottle String Band at 8 p.m.
June 10 - Slipjig at 4 p.m., The N'achos at 7 p.m.
June 11 - Able Baker at 7 p.m., Telethon at 8 p.m.
June 16 - Northern Comfort Bluegrass at 7 p.m.
June 17 - Behind the Beat: SPRING at 4 p.m., LGBTQIA+ arts lineup in recognition of Pride Month at 7 p.m.
June 18 - Madison Jazz Festival: Ticketed headliner Brian Blade & The Fellowship Band at 8 p.m. in Shannon Hall and free jazz performances starting at 2:30 p.m. at the Terrace. Presented in partnership with Arts + Literature Laboratory with sponsorship support from The Capital Times.
June 19 - Madison Jazz Festival: Ticketed headliner Christian McBride at 8 p.m. in Shannon Hall and free afternoon Terrace programming to be announced. Presented in partnership with Arts + Literature Laboratory with sponsorship support from The Capital Times and Dane Arts.
June 23 - Seb Szabo at 7 p.m., Motel Breakfast at 8 p.m.
June 24 - Behind the Beat: Caili O'Doherty at 4 p.m., DJay Mando at 7 p.m.
June 25 - Old Pup at 7 p.m., Sleepy Gaucho at 8 p.m. 
June 30 - The Material Boys at 7 p.m.
July 1 - Silk Stranger at 7 p.m., WURK at 8 p.m.      
July 2 - Adem Tesfaye at 7 p.m., Don't Mess With Cupid at 8 p.m.
Additional performances will be announced in the months ahead. The events schedule is subject to change.
Terrace season 2022 includes two free film showings series at the UW Credit Union Terrace Stage at the Terrace: "Monday Lakeside Cinema: Surfing through the Summer" on Mondays at 9 p.m. May 30-Sept. 5 and "Sunday Lakeside Cinema: Hot Girl Summer" on select Sundays at 9 p.m. beginning June 12. The scheduled films include the following:
May 30 - "Pirates of the Caribbean: The Curse of the Black Pearl"
June 6 - "The Goonies"
June 12 - "Jennifer's Body"
June 13 - "The Life Aquatic with Steve Zissou"
June 20 - "Teen Beach Movie"
June 26 - "She's the Man"
June 27 - "Uncharted"
July 4 - "Nim's Island"
July 10 - "Marie Antoinette"
July 11 - "Sharknado"
July 18 - "Point Break"
July 24 - "Mamma Mia!"
July 25 - "Mamma Mia! Here We Go Again"
Aug. 1 - "Moana"
Aug. 7 - "A League of Their Own"
Aug. 8 - "Blue Crush"
Aug. 15 - "Creature from the Black Lagoon"
Aug. 22 - "Surf's Up"
Aug. 29 - "Ocean's 11"
Sept. 5 - "Shark Tale"
Seating during live music and film showings is available on a first come, first served basis. In the case of inclement weather, the Union team will aim to move the performance or film showing into der Rathskeller inside Memorial Union. Summer Terrace programming is presented with support from Dean Health Plan, a member of SSM Health.
Also returning for the 2022 Terrace season, the team at Wheelhouse Studios, Wisconsin Union's open arts studio, will host Terrace Art Zone, a series of free art projects June-August on Wednesdays, Thursdays, and Fridays from 4–7 p.m. or while supplies last. The Wheelhouse team will also host the free event Paintacular, Madison's largest group paint event, on Sept. 5. A painting instructor will help guide participants through their painting experience. Terrace Art Zone and Paintacular participation is available on a first come, first served basis. The Wheelhouse team also offers classes all year long for which patrons can register here.
Outdoor UW paddling rentals, another Terrace season tradition, has returned, along with yoga classes on the Terrace and stand-up paddleboard yoga on Lake Mendota; outdoor group experiences by reservation; and family-friendly outdoor recreation events, called Family Night on Lake Mendota. Summer paddling rentals include tandem kayaks, single kayaks, canoes, stand-up paddleboards and an eight-person stand-up paddleboard.
Patrons can enjoy multiple on-site dining options at Memorial Union and the Terrace, including a variety of grilled food from the Brat Stand, pub food at der Rathskeller, pizzas and shareables at Lakeview Lounge, desserts at the Daily Scoop, coffee and tea at Peet's Coffee, and more.
Terrace music programming is created by the Wisconsin Union Directorate (WUD) Music Committee, with the exceptions of the Madison Jazz Festival and events in Shannon Hall. The WUD Film Committee presents the free film showings held at the Terrace during the summer and in the Marquee at Union South each fall and spring. These committees are two of 11 University of Wisconsin–Madison student-run WUD committees and six clubs at the Wisconsin Union. Union committee and club members create more than 1,000 events annually while gaining leadership skills. Some student leaders receive academic stipends, funded by operating revenue and donations, for their work.
The Union's free and low-cost events as well as student leadership opportunities are made possible through donations to the Wisconsin Union, purchases at the Union's dining options and online store, as well as Wisconsin Union membership purchases. The Union does not receive taxpayer dollars as part of its annual budget.
"With events and activities every week of Terrace season, this summer is the perfect time to visit the Terrace, whether you love the Memorial Union or are visiting for the first time," said Heidi Lang, Wisconsin Union associate director for social education.
Those ages 16 and older interested in joining the Wisconsin Union team on a seasonal or longer-term basis can visit union.wisc.edu/jobs to learn about the more than 70 types of jobs the Union offers. Wisconsin Union student employees receive an extra $2/hour through Aug. 27.
Patrons can visit TerraceSummer.com for the most up-to-date event calendar listings and for other Terrace season information.