Wisconsin Union adds new events, activities to 2020 Winter Carnival lineup
Posted: 01/17/20
The Wisconsin Union's Winter Carnival will return Feb. 3-9 with new events that encourage University of Wisconsin-Madison students and other community members to get outside and enjoy Wisconsin's winter season.
One new addition to the Winter Carnival experience is Terrace Wonderland, an evening of winter-themed activities at the Memorial Union Terrace Feb. 6 from 4-7 p.m. This free debut event will include live music, cotton candy, family-friendly games, gingerbread house-making, a hot chocolate bar, Valentine's Day card-making, an ice skating rink and more.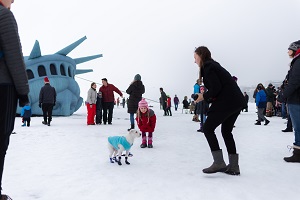 The annual celebration will also include Carnival community favorites, such as Lady Liberty on Lake Mendota Feb. 6-8. The tradition of placing portions of a Statue of Liberty Styrofoam replica on the lake began with a prank in 1979 by the Pail and Shovel Party, which was led by UW-Madison alumni Leon Varjian and Jim Mallon '79. The Wisconsin Union team continues that tradition with an inflatable version of the Statue's head, arm and torch.
The Carnival will include a flurry of additional events throughout the week, including but not limited to the following:
Flannel Day, Feb. 3, 4-5 p.m.: A guest wearing a flannel shirt is eligible to receive a small order of deep fried cheese curds from der Rathskeller for $1.
Free Snowshoe Rentals, Feb. 4, noon-5 p.m.: Guests can rent snowshoes for free through Outdoor UW at Memorial Union with a valid Wiscard.
Virtual Reality Experience, Feb. 4, 3-6 p.m.: Attendees can hike to the top of a mountain or scuba dive without ever leaving the comfort of Mendota Lodge.
Leave No Trace Workshop, Feb. 5, 6-8 p.m.: New this year, visitors are invited to attend a Leave No Trace Workshop hosted by Outdoor UW focusing on sustainable habits and ethics in the outdoors for $5.
Weathering the Winter Blues, Feb. 5, 5-6:30 p.m.: Join the Wisconsin Union Directorate (WUD) Society and Politics Committee along with Jack Nitschke, UW-Madison associate professor of psychiatry, and Felix Savino, training director and psychologist at University Health Services — Mental Health Services, and discover strategies to stay healthy during Wisconsin winters.
Candlelight Ski and Snowshoe Hike, Feb. 6, 5-8 p.m.: Led by the Hoofer Outing Club, participants can snowshoe, cross-country ski or hike along a candlelit path and then enjoy a campfire at Picnic Point.
Free Art Friday: Button-Making, Feb. 7, 5-7 p.m.: Attendees can enjoy free button making, hot cocoa and cookies with Wheelhouse Studios.
Snow Ball, Feb. 7, 8-11:55 p.m.: Guests can join the Hoofer Sailing Club for a free night of music, dancing, appetizers and non-alcoholic beverages.
Broomball Tournament, Feb. 8, 8 a.m.-9 p.m.: University Recreation & Wellbeing will host its annual broomball tournament on Lake Mendota. Registration is available for those with a Rec Well membership.
Connolly Classic Pond Hockey Tournament, Feb. 8-9: University of Wisconsin-Madison students can take part in University Recreation & Wellbeing's pond hockey competition. Registration is available for those with a Rec Well membership.
Family Fun in Alumni Park, Feb. 8, noon-3 p.m.: Badgers and Badgers-at-heart of all ages will come together for an afternoon of family-friendly, winter-themed activities in Alumni Park, including art-making and complimentary hot cocoa.
Rail Jam, Feb. 8: Witness freestyle skiing and snowboarding up close through Rail Jam, an aerobatic skill and trick competition, which will return to the Memorial Union Terrace for the first time since 2016.
"Everyone looks forward to warm weather activities, but there's also plenty to do outside during Wisconsin's winters," Outdoor UW Director Joseph Webb said. "We invite our community and visitors to learn about and celebrate wintertime through outdoor recreation, outdoor activities, and cozy indoor activities."
Additional events are expected to be announced in the near future. All Winter Carnival events are subject to change. All members of the community and visitors are invited to experience the Carnival.
2020 marks the 80th year members of the Wisconsin Union team have made Winter Carnival possible. Many Carnival events are hosted by WUD student leaders from the Directorate's committees and Hoofer clubs at the Wisconsin Union. These leaders organize, promote and execute thousands of events throughout the year, including cultural events and outdoor recreation and education.
Purchases made at Memorial Union during this celebration and all year long help make events, like the Carnival possible, and help fund student leadership opportunities.
To learn more about the Winter Carnival, including the full schedule of events and activities, visit union.wisc.edu/wintercarnival or the Winter Carnival Facebook event.