Terrace season will feature traditions, new programs
Posted: 03/22/17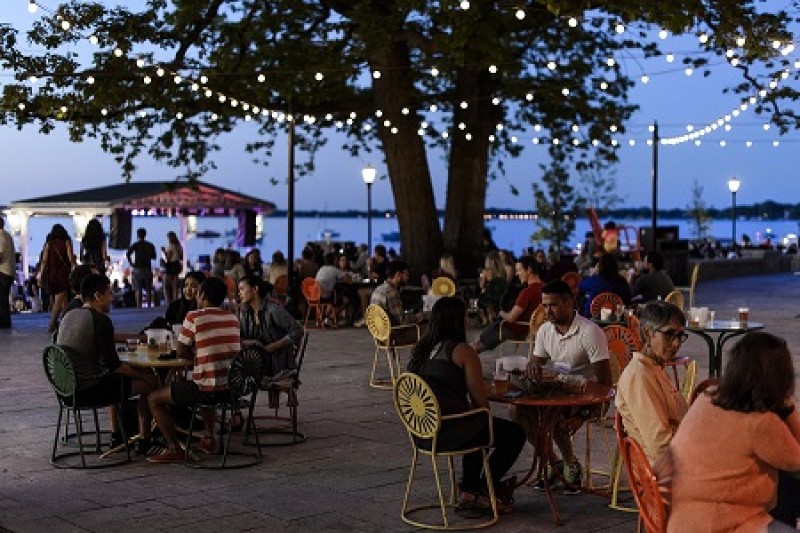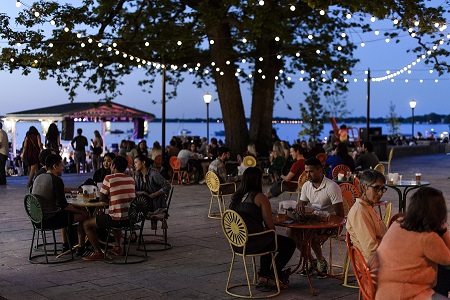 Memorial Union Terrace, Madison's favorite summer spot on Lake Mendota, will open this season with the community's favorite traditions, new events, and new dining and recreation options. Noticeably missing will be construction nearby on Memorial Union's first floor, which opened in December 2016 and will be open this Terrace season.
The return of Terrace season will include the return of Terrace After Dark, a summer-long event series that blends music and film with warm, summer nights.
The nighttime series' music events will include open mic nights on Wednesdays, live bluegrass and Americana music on Thursday nights, and live jazz on Friday nights.
Plus, Wisconsin Union student leaders will bring back a summer-long music headliner series each Thursday, Friday and Saturday evening that will include a tribute to legendary drummer Clyde Stubblefield on May 13 at 9 p.m.
The summer night sky will serve as a backdrop for another Terrace tradition known as Lakeside Cinema, a Monday night film series that occurs from Memorial Day to Labor Day. A themed Sunday night series will add five additional films to the summer line up.
Daytime entertainment and activities will also grow this year. New programming ranges from a classical music series on Sunday afternoons to arts and crafts Wednesday afternoons and expanded games available for use on a first-come, first-served basis. In addition, guests will again have the opportunity create one-night masterpieces during Paintaculars, Madison's largest instructor-led painting events.
"Our student-led programming is often imitated but never duplicated," said Deshawn McKinney, Wisconsin Union president. "You still can't Terrace anywhere else."
Outdoor recreation opportunities will also grow during the 2017 Terrace season. This year, Outdoor UW will offer new water equipment starting this summer designed specifically for large groups to use on Lake Mendota. Outdoor UW will continue to provide camping and water equipment rentals such as canoes, kayaks and paddleboards. The popular Terrace Yoga will also continue to offer drop-in classes in the mornings both on land and on the water.
"We have something for everyone here," McKinney said. "We want to create a welcoming place that incorporates lots of different ways to have fun."
Dining on and around the Terrace will also include returning and new offerings. The Brat Stand, a decades-long tradition located on the west side of the Terrace, will serve brats, burgers, grilled chicken, corn on the cob and cold beverages.
Plus, the BBQ stand on the east end of the Terrace will make its debut in 2017. There, guests can enjoy BBQ fare and famous Babcock Hall Ice Cream.
In addition, restaurants inside Memorial Union will continue to serve guests throughout the summer. This includes a new service counter located in Lakeview Lounge offering family-style pizza, appetizers and cold beverages. Also, the Sunset Lounge, salad and sandwich shop Carte, Italian eatery Strada, the Stiftskeller, the Daily Scoop and the famous Rathskeller will remain open throughout the season.
The opening date for the Memorial Union Terrace has not yet been determined. The Terrace generally opens in mid- to late April, depending on the weather.
Those interested in learning more about the 2017 Terrace season may visit terracesummer.com.