A Celebration of the 2022 WUD Performing Arts Committee Graduates
Posted: 05/05/22
By Abby Synnes
The Wisconsin Union Directorate Performing Arts Committee (WUD PAC) is made up of a group of students from many majors, who are connected by their passion for the theater. That's why the students dedicate so much of their time and energy to working alongside the Wisconsin Union Theater (WUT) team to bring a wide range of performances to campus. Behind each music, dance, or spoken word show, a team of dedicated student leaders work to bring them to life while also pursuing their academic degrees. WUD PAC students curate WUT's performing arts season in conjunction with the Theater's director who sets the artistic direction of the Wisconsin Union Theater. The student programmers work collaboratively to schedule artists who represent WUT's artistic priorities and align with campus and community interests.
Recently, in addition to programming WUT's future season line-up, they produced their own customized series of events in WUT's Play Circle Theater at Memorial Union, called the "Community Performance Showcase," which featured many local acts and multidisciplinary performances.
"It's kind of an anything-goes artistic playground," said Elizabeth Snodgrass, Wisconsin Union Theater director and WUD PAC advisor, "And they can program a few weeks to a few months out, which is a different experience than curating and programming for something a year or more into the future - performances that they may not even experience."
At the beginning of each year, many new students join the group of talented committee members, creating a close-knit community of arts-lovers. To provide this opportunity to as many students as possible, the committee's positions are for one year, and each academic season has a new cohort of WUD PAC members.
We caught up with three graduating WUD PAC members to learn about their committee experiences, to celebrate their accomplishments, and to thank them for the incredible work they've done to foster a love of the performing arts on campus. Read on to learn about Kaden, Hannah and Abigail and about why WUD PAC has been such an influential part of their time at UW-Madison.
Kaden Buck, associate director of general programming
Hailing from Appleton, Wis., Kaden Buck is a recent UW-Madison graduate with a bachelor of science degree in both economics and jazz studies. Kaden joined WUD PAC in 2019, and, this year, he served as associate director of general programming.
Kaden said that WUD PAC has taught him "how to be willing to change my perspective and be open to new ideas. Open-mindedness is crucial in WUD PAC, and my involvement in the committee has helped me bring this trait to all areas of my life."
On Nov. 5, 2021, the Wisconsin Union Theater team presented a performance featuring Grammy-winning trumpeter and composer Terence Blanchard, along with The E-Collective and Turtle Island Quartet, in a collaborative project that paid tribute to Blanchard's mentor Wayne Shorter. Kaden remembers working the show as one of his most memorable experiences with WUD PAC.
"I had the opportunity to spend the day around all my friends involved in the Theater, and I also got to interact with Terence Blanchard, himself," Kaden recalled fondly. "The best part was getting to watch the entire show from the side of the stage, which let me be really close to a truly amazing performance."
In addition to planning for the current year's programming, WUD PAC members are always thinking ahead to future seasons.
"I'm very proud of contracting a large portion of our 2023 Jazz Concert Series," Kaden said when asked about his proudest accomplishment from his time with the committee. "I've also become a lot more organized and have made valuable connections through WUD PAC."
Luckily, this isn't the last that WUD PAC has seen of Kaden. Kaden will be staying in Madison next year as he completes his master's degree in arts and creative leadership within the Wisconsin School of Business. He plans to stay involved with WUD during his graduate studies and will take on the role of WUD Art director in the fall. No matter what comes next for Kaden, he wants to "continue to curate artistic spaces in any capacity."
Hannah Bruder, associate director of committee management
Hannah Bruder is a recent grad from New Prague, Minn., with a bachelor of arts degree in both Spanish and communication sciences and disorders. Hannah has been a member of WUD PAC since September 2021, and the eight months that she was a part of the committee she says changed her life for the better. As associate director of committee management, she contracted artists for the monthly Community Performance Showcase; communicated the technological needs of each artist to the Theater staff; and helped run shows at the Play Circle Theater in Memorial Union.
"I have no idea what my future career will have in store for me, but I will be able to take all the communication and collaboration skills that I've learned in WUD PAC with me," Hannah said.
In addition to learning skills such as problem-solving and creativity, she also learned "the importance of checking in; not only on tasks, but also in people's lives. Even on our busiest days, there is always time to take a step back and make sure everyone on your team is doing all right."
One of Hannah's most memorable moments was when Brooklyn-based music group Phony Ppl performed in Shannon Hall on Nov. 18, 2021. She had a chance to interact with the members of this genre-defying band right after the show.
"Their vocalist Elbee Thrie complimented me as soon as I walked into the Green Room," she said. "I tried to stay cool, calm and collected, but internally, I was fangirling so hard."
Hannah was instrumental in helping pioneer the Community Performance Showcase, a monthly showcase featuring young local artists.
"Although everyone has a part in the showcase, I was in charge of contracting the artists, and I loved having direct contact with each and every performer," Hannah said. "It made me feel like I had an integral part in every amazing performance we put on."
Due to COVID-19, Hannah was never able to study abroad like she wanted to, so she plans to satisfy her wanderlust by traveling after graduation.
"I think eventually I would love to continue schooling to become a speech-language pathologist," Hannah said. "But, as of now, my only plans are to travel and learn Spanish better. I'll figure everything else out later."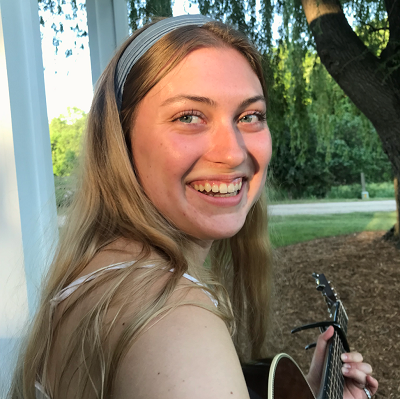 Abigail Arkley, assistant director of general programming
Abigail Arkley's love for the performing arts is twofold: not only is she involved in the behind-the-scenes action through WUD PAC, but she also enjoys being on stage, as evidenced by her bachelor's degree in piano performance. Abigail came to Madison from Minneapolis, Minn., and joined WUD PAC in September 2021 as assistant director of general programming.
Similar to Kaden, Abigail was starstruck by the Terence Blanchard show in the fall.
"I've looked up to and listened to Terence Blanchard since I was eight years old, so my childhood self was over the moon," Abigail said.
She enjoyed running the Terence Blanchard show, meeting him and being part of the behind-the-scenes of a Theater event.
The Community Performance Showcase was an influential part of Abigail's time in the committee, as well. After a lot of planning and hard work, the end result was "a community-oriented, deeply meaningful and unique immersive multidisciplinary arts experience that was the fruition of a dream" that Abigail has had "for years."
Through WUD PAC, Abigail said, she's "been able to see performances through the entire process, from the brainstorm phase to opening night. Being a key part of making a production happen like that is nothing short of incredible."
WUD PAC has taught Abigail lessons in coordination and communication that she hopes to take into her future career as a freelance musician and artist. She also wants "to work with organizations to plan, create and foster a more inclusive variety of community events."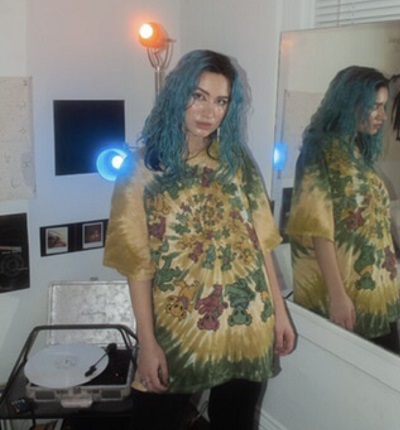 So why should current and future students get involved with WUD PAC?
"Getting involved with WUD PAC gave me an opportunity to have my voice heard through the artists I helped bring to campus. It also allowed me to meet and grow closer to some amazing people, and bring people to campus that are important to our community." – Kaden
"The Theater staff, especially our advisor Elizabeth Snodgrass, are all incredibly supportive. If we want to try and bring an artist to Madison, everyone works their hardest to make it happen. This year, we had a small, tight-knit crew, which meant that we were able to bond with every single member. Even if you're not super well-versed in the performing arts realm yet, you'll not only learn so much through the committee, but you'll be immersed in a supportive and welcoming environment." – Hannah
"First, you get incredible hands-on experience in the arts, where your presence and opinion are valued, and your responsibilities are intrinsic to the success of the performing arts on campus. Along the way, you have the opportunity to run shows and meet the artists who come through the Theater. Second, the community is incredible. My fellow PAC members are some of my closest friends, and it is the brightest spot in my week coming to meetings and running shows together." – Abigail
Thank you to Kaden, Hannah, Abigail and all of our WUD PAC members for their hard work in bringing incredible performers to campus. All of us at the Wisconsin Union wish you luck with your future endeavors!
All UW-Madison students with a passion for the performing arts are encouraged to join WUD PAC. To learn more about the committee, click here.