How the Brentano String Quartet Blends Tradition with Innovation
Posted: 01/06/22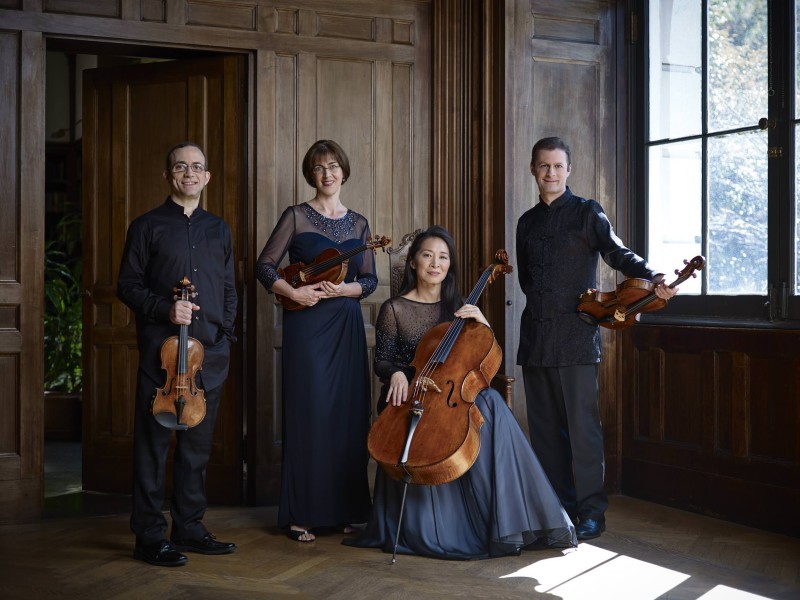 Brentano String Quartet | Feb. 10, 7:30 p.m. CDT
Shannon Hall at The Wisconsin Union Theater and Virtual Attendance Option 
An audience watching the Brentano String Quartet can expect absolute passion and power from its performance. Celebrating 30 years as a quartet, the lavish sounds of the four stellar artists of the Brentano String Quartet seamlessly entwine, creating something close to perfection as you may ever witness in classical chamber music. The physicality and supreme vivacity of every performance leave audiences in complete awe of the Brentano String Quartet's musical capability and emotional connection to the music and one another.
Choice of repertoire is a critical key to success for a string ensemble. With instruments that have been around since the 16th century, there is a vast collection of music from which string quartets can choose. How can they captivate an audience? Do they want to invoke antiquity by imitating Baroque sonata da chiesa style or incorporate modern techniques, such as vibrato? The Brentano String Quartet has answered this question, and it has proven to be successful. 
Some say that aged, long-forgotten music stirs our ancestral bonds. It is an interesting thought when considering the music of Josquin des Prez (France, 1450-1521) and Carlo Gesualda (Italy, 1566-1613). Both composers have been honored by Brentano, and you can hear their state of humanity captured within the music. Take, for example, "Josquiniana" (2001) by American composer Charles Wuorinen. Listen to the imitation, lack of vibrato, and chorale-like texture that created the clarity highly valued in the time of Josquin.
"'Josquiniana', commissioned by and dedicated to the Brentano Quartet, is a setting of six secular works (some presumably instrumental and others vocal) by the great composer, who lived from the middle of the fifteenth into the third decade of the sixteenth centuries," Wuorinen said. "The originals are from three to five voices, but I have recomposed them into music for string quartet. Some of the pieces are of doubtful authenticity, but are worth including on purely musical grounds, whether Josquin wrote them or not.  In particular the last (El Grillo) is probably not by Josquin, but was too much fun to leave out."
In order to venture out to these extremes, Brentano first had to master quartet music at its peak, the classical era, which the quartet plays effortlessly. Listen to this performance of Beethoven's Op. 18 no. 4 
"The Brentano String Quartet is something special…Their music-making is private, delicate and fresh, but by its very intimacy and importance it seizes attention." — The New York Times
Fresh is the captivating word here. How does Brentano continue to appear fresh while playing 400-year-old instruments? Besides its fiery sound, it has commissioned and premiered countless new works over the years. Composers and collaborative artists include Elliot Carter, Vijay Iyer, Charles Wuorinen, Chou Wen-chung, Steven Mackey, Bruce Adolphe, György Kurtág, David Horne, and Gabriele Frank. You may recognize the name Vijay Iyer, a world-renowned pianist and composer that we were honored to hear as part of our Wisconsin Union Theater season with his trio in December 2021. The Brentano String Quartet and jazz musician Vijay Iyer have worked closely with each other, blending two worlds together to create a new musical universe. Listen to the quartet's considerable range: 
The Brentano String quartet continues to dazzle audiences by expanding their repertoire each and every year. 
For tickets to witness the Brentano String Quartet live at Shannon Hall on Feb. 10 at 7:30 p.m. CDT, head to: https://union.wisc.edu/events-and-activities/event-calendar/event/brentano-string-quartet/.