Pulling Back the Curtain on the Technical Side of Wisconsin Union Theater Programs
Posted: 08/18/22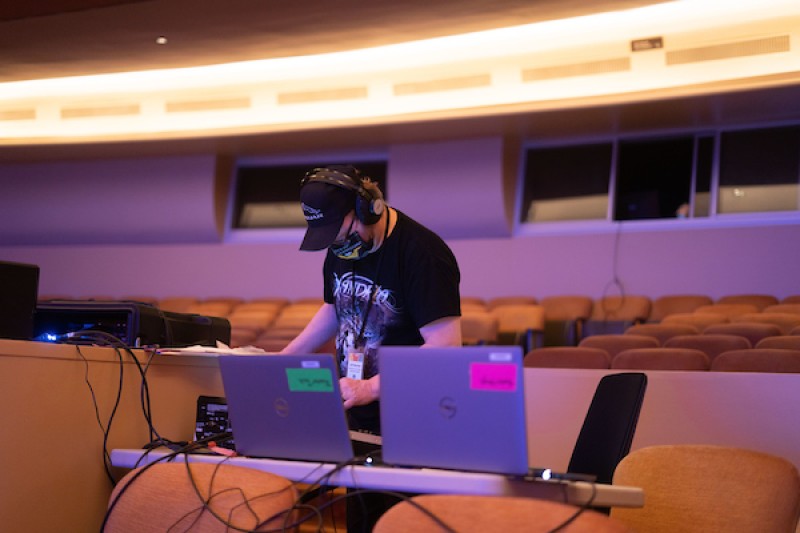 The lights that shine on artists in Shannon Hall and the Play Circle Theater at Memorial Union and the technology that makes every seat in our performance spaces sound like you're sitting in the front row. Thanks to the complex systems and talented Wisconsin Union Theater team, it all looks effortless.
Behind the scenes is Shannon Hall Technical Director Jeff Macheel. He and the crew use Wisconsin-based Electronic Theatre Controls (ETC) entertainment control boards. Fun fact: ETC founders Fred and Bill Foster worked as stagehands at the Theater in the 1970s. And many world-class sound and light technology companies' products bring the arts experience to life.
The ETC boards and other advanced performing arts technology became part of backstage magic after the Wisconsin Union team renovated its building Memorial Union, including the performing arts spaces, to enhance technology, infrastructure, and accessibility.
Situated behind the audience, the renovated control rooms are the nervous systems for each production's lighting. Student staff and professional staff work together to light each performance. Jeff enjoys the technical work and mentoring student team members as they learn sound and light technology.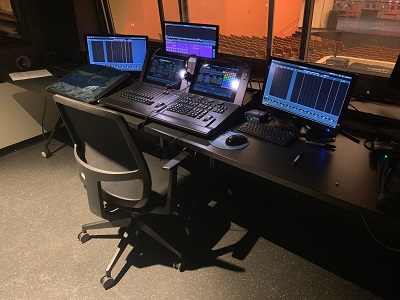 "The light board is all visual work, and students learn it quickly," Jeff said. "They gain muscle memory about buttons' locations, which is important because they need to see the results of their work on the stage and adjust if needed. For example, a spotlight's motion may need to be modified from original plans if a performer takes a few extra steps than the artist did during rehearsal."
In Shannon Hall, team members in the control room work with staff in the on-floor sound booth in the center of the orchestra section. Jeff shared that control boards at Memorial Union used to be wall-mounted before the renovations. Back then, artists' lighting plans were often not possible. Jeff said Shannon Hall didn't truly have a music sound system until after the renovations. Now, team members can move sliders and press keys on a DiGiCo control console, which creates exquisite audio throughout our spaces, which audience members can hear through the Theater's world-renowned L-Acoustics speakers. The Wisconsin Union team also uses L-Acoustics speakers in the outdoor Memorial Union Terrace entertainment space.
"At the soundboard, our team members spend most of their time looking down at their board and their screens on the board," Jeff said. "They are listening for corrections or potential improvements in audio. They are always ready to adjust levers at a moment's notice."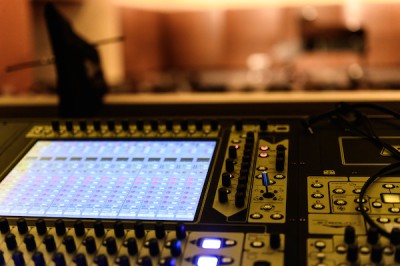 Tip from Jeff: Jeff says the best seating in a performance hall is near the sound control board. In Shannon Hall, that's the center of row Q.
Choreographed actions by light and sound technicians create the experiences we love. Jeff said it takes one to two team members at the soundboard and another one to two in our control room to make it all happen. Their expertise pairs with enhancements from the renovations, such as metal acoustic panels that line the walls and new lighting rigs that hold our lights on the balcony and sides of the art deco-style performance space's stage.
Jeff shared that all the systems in the Play Circle Theater at Memorial Union are brand new, with changes that allow it to be ready for many types of programming, including club lighting, LED light fixtures, and state-of-the-art sound and lighting.
"There is no show without lighting and sound," Jeff said, describing the importance of light and sound work. "We're honored that talented artists trust us to make their art possible, and there is just as much art behind the scenes in light and sound making it all happen."
One new feature to the spaces that patrons may not realize occurred during the last construction is new door seals. The door seals prevent light from other areas from entering the theaters. A dramatic blackout is far more dramatic than before. But, beyond the dramatism of a blackout, this and other enhancements help our team more effectively bring to life artists' visions for their work.
When not managing technical aspects of performances from the control room or the on-floor sound booth, Jeff and other team members can oversee performances in Shannon Hall and the Play Circle through screens streaming events behind the scenes.
Hidden technology brings performances to life! In the darkness above the Shannon Hall stage, stage rigging holds everything up in the air. Depending on the show, it could hoist scenery or other visual elements of a show. The previous system used hemp ropes and sandbags.
Jeff said the technical side of theater programming is both an art and a science.
"We are constantly planning for all scenarios, such as a mic suddenly not working or an artist changing choreography unexpectedly," Jeff said. "We are also always studying technology, honing our skills, and working to create even more incredible experiences in the future."
If you would like to experience Jeff's and our other theater colleagues' work in person, we have plenty of opportunities for you to do so. Students can apply to be part of the stage crew (any open positions will be listed on the Wisconsin Union's website) and all are welcome to attend the Wisconsin Union Theater's upcoming season of events. Enjoy the magic of the performing arts with music, dance, and more. You can learn more at union.wisc.edu/theater.