Raise a Glass to the Spring Season
Posted: 02/03/22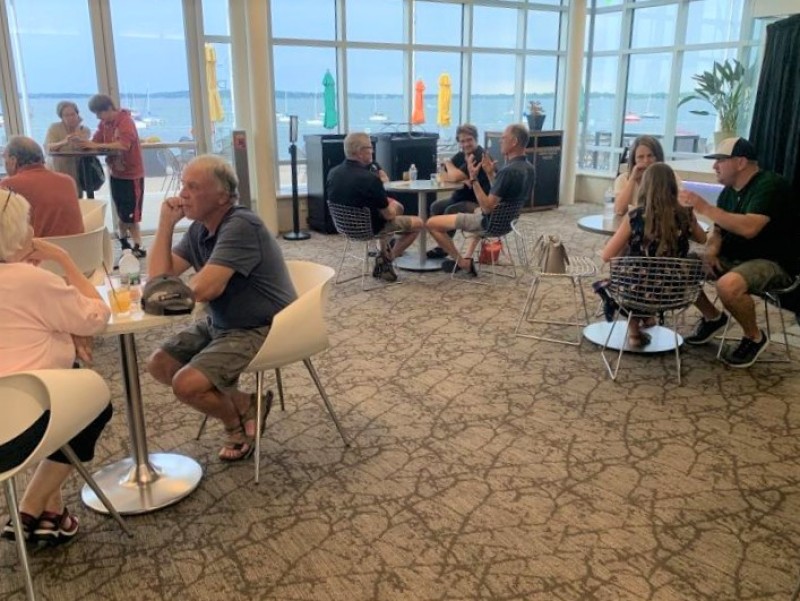 Before select shows at the Wisconsin Union Theater, we invite you to join fellow theater-goers for a drink in Memorial Union's Shannon Sunset Lounge. Located just outside the main entrance of Shannon Hall, the Lounge offers comfortable seating, a cozy fireplace, and a stunning view of Lake Mendota, making it the perfect place to start your evening at the theater. During the spring 2022 season, the bar will open before the performance by legendary soprano Renée Fleming on April 30, beginning an hour before showtime. 
We look forward to seeing you there!
"A night at the Wisconsin Union Theater is a night to remember. From the time people first learn about a show, select and purchase tickets, and join us for a night at the historic Shannon Hall or the Play Circle, the Wisconsin Union Theater offers a wonderful patron experience and world-class artistic performance," Wisconsin Union Theater Director Elizabeth Snodgrass said. "And we're proud to offer craft cocktails, beer, or non-alcoholic beverages in the Shannon Sunset Lounge as part of an evening at the theater. We want to offer spaces to gather, connect, and build community, which is what it's all about."
The Shannon Sunset Lounge bar offers a variety of drinks for purchase, from a glass of wine to a pint of cold beer. Before the Renée Fleming show, we will also offer a delicious signature cocktail inspired by her performance and the beautiful Shannon Hall. Non-alcoholic options include popular sodas or water. The average drink costs range from around $4 to $9. 
"We invite our community to join us for a beer or soda or to sip a cocktail over good conversation with friends before enjoying what's on stage," Snodgrass said.
If you plan to enjoy a drink before the Renée Fleming recital, the bar will open starting at 6 p.m. Remember to bring along your government-issued photo ID, and please also note that the bar is cash only. If you would like to enjoy a meal before an upcoming Wisconsin Union Theater performance, the Union has a variety of dining options from which to choose at Memorial Union, including the historic German dining hall der Rathskeller. Cheers!
We are always looking for ways to create a memorable experience for our guests. If you have ideas to help make theater-going experiences even more special, please reach out to us at theater@union.wisc.edu.  
We anticipate opening our ticket sales for the April 30 Renée Fleming show in early March. Learn more.