World Music with a Russian Soul
Posted: 02/03/20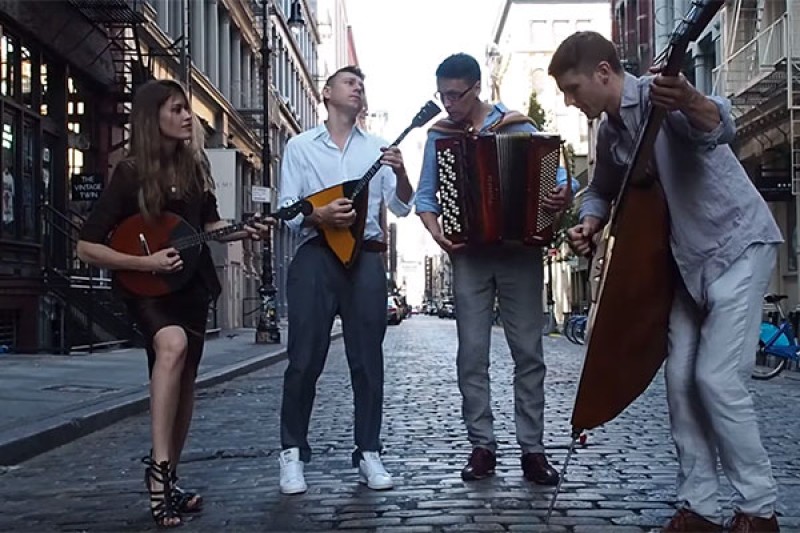 This season at the Wisconsin Union Theater, we are celebrating the rich history of classical music performers in our 100th Anniversary Concert Series. Many performers have visited our theater multiple times and have had careers that span decades. However, in February we welcome an ensemble that is just getting started.
Russian Renaissance (formed in 2015) describes their music as world music with a Russian soul. They've performed a wide range of musical genres including classical, jazz, tango, folk and more—all played on traditional Russian instruments.
The group established themselves as a rising chamber music ensemble in 2017 when they won the $100,000 grand prize at the M-Prize Chamber Arts Competition, hosted by the University of Michigan from 2016-18. The competition helped to raise the profile of chamber music, and gave chamber ensembles much deserved attention and support. Russian Renaissance's performance showcased their own unique instruments and Russian soul.
The unique instruments that Russian Renaissance uses allows them to experiment with different genres of music while keeping that Russian sound that makes them so unique. The ensemble includes three string instruments—the balalaika prima, balalaika contrabasso, and dorma—and an accordion.
This video features each instrument as the musicians enter one by one, allowing you to hear each individual sound. 
Played by Ivan Kuznetsov, the balalaika prima is a triangle-shaped instrument resembling the sound of the mandolin.
The balalaika contrabasso is played by Ivan Vinogradov. This large instrument is also triangle-shaped, and provides a filling and deep sound similar to that of a string bass.
Anastasia Zakharova plays the dorma, the oldest Russian multi-string instrument. This circular-shaped instrument provides the highest pitch of the string instruments in the ensemble, resembling a high-pitched banjo.
The button accordion, the only non-string instrument in the ensemble, is played by Alexander Tarasov. The keyboard consists of many buttons instead of the piano accordion's piano-style keys. The accordion provides what many would think of as a traditional Russian sound to the ensemble.
Russian Renaissance is truly a unique ensemble that defies the boundaries of musical genres. We are excited to hear "one of the finest displays of musicianship in the world" (Arts at Michigan) when they fill the Play Circle with their Russian soul.
Dan Palec
Marketing Intern
2/3/20
---
The Russian Renaissance performs in the Play Circle on Friday, February 21, 2020 at 8pm - Learn more