Rhythm, Performance, Expression and Strength: Welcome to a Poetry Slam
Posted: 10/24/23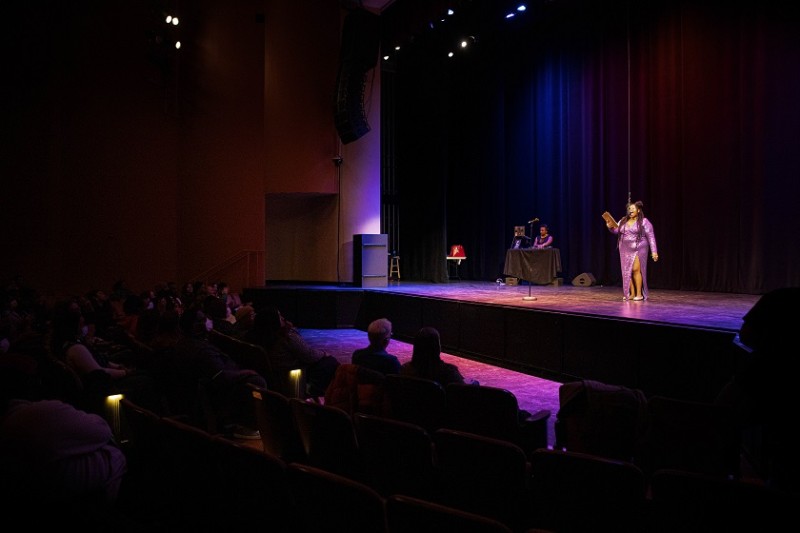 There's reading poetry, attending a poetry reading, and then there's attending a poetry slam. You may have enjoyed the first two experiences before, but let us introduce you to the third.
If theater and poetry had a baby, it would be a poetry slam. Poetry slams originated in the 1980s in Chicago as a way for people to share spoken word poetry in a more rhythmic and performance-based style than your typical poetry reading. Often, a poetry slam is structured as a competition between performers or poets, but, at their heart, the event is intended as a way to share a love of poetry.
Writers may perform their own poems, or individuals may choose to present another poet's work in a spoken word style – sometimes clapping hands, snapping fingers, or adding movement or emphasis to phrases or words within the poem. A truly powerful and unique performing art form, poetry slams bring written word to life with deep emotion and intelligent underscoring of some of society's deepest issues.
"I attended my first-ever poetry slam last year at the Black Arts Matter Festival and was pleasantly surprised at how much I enjoyed the experience," says Erika Stevens, marketing specialist. "Slam poetry is a really moving, powerful way to understand someone else's experiences. I'm looking forward to attending again this year!"
This year, as part of 2023's Black Arts Matter (BAM) Festival, some of the country's top poets are coming to Shannon Hall on Nov. 12 for an All-Star Poetry Slam. Over ten artists will be competing for the $6,000 prize:
Ayanna Florence

Blacqwildflowr

Ebony Stewart

Ephraim Nehemiah

Jahman Hill

LeChell "The Shootah"

Maya Write

Tony McPherson

Mecca

Nathan Wallace

RADI
And you can come hear from them all! Tickets are on sale, with special rates available for Wisconsin Union members, students, and UW–Madison faculty and staff.
Don't worry if you haven't been to a slam before – we won't be pulling you onstage, we promise – join us for a night of heart-touching performances by the best of the best and maybe find your new favorite performing art form!
To purchase your ticket to the 2023 All-Star Poetry Slam, visit https://union.wisc.edu/events-and-activities/event-calendar/event/bam-all-star-poetry-slam/. For more information on the Black Arts Matter (BAM) Festival, check out https://union.wisc.edu/visit/wisconsin-union-theater/seasonevents/black-arts-matter-festival/.