Where Student Life Gets Lived Professionally
Posted: 03/02/20
One of the greatest parts of the Wisconsin Union is the way students make it their home. It is the place to meet people, eat some cheese curds, watch the sunset and do homework. The Union is versatile, which is part of the reason it is so special for students, alumni and Madisonians alike.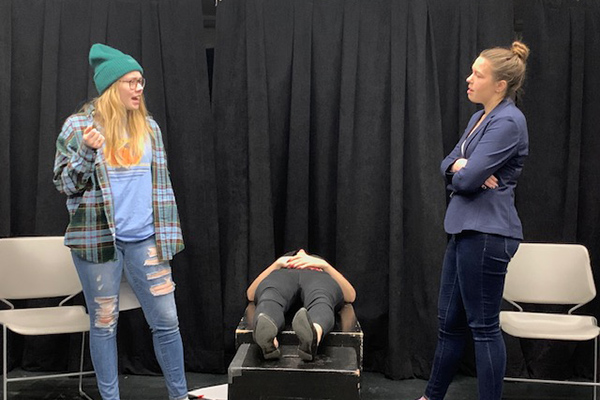 For me, the Union became even more important in my day to day life after taking a position as a marketing intern for the Wisconsin Union Theater. I've had the opportunity to learn about and help promote the incredible programming at the Theater, including the Marcia Légère Student Play Festival (MLSPF).
What is unique about the MLSPF is that it is a completely student-run event. All the plays are written by undergraduate and graduate students and feature student actors and directors. The MLSPF provides playwrights, directors and actors an opportunity to hone their craft and express themselves. As a marketing intern, I've also had the pleasure of working on this event. I am responsible for creating and implementing the marketing strategy, which included social media posts, finding the best places to put posters and this blog post. I've learned that marketing is about telling stories and building connections with others, which is similar to what the playwrights are doing by sharing their stories with us.
My experience with MLSPF has been both challenging and rewarding. I was able to take the skills I learned in my classes and at work and apply them to something real. This was the first campaign that I managed and ran completely on my own. While I did not entirely know what to expect, I worked closely with the student producer of the play festival to learn his goals and priorities so that I could align the marketing goals with his. Through a lot of hard work and collaboration, I created a plan that not only met but exceeded expectations.
Working on this project gave me confidence I can take with me on future endeavors. I know that I can manage client relations and produce great work that helps elevate a place that I love. I don't yet know what my next project will be after graduating in May, but I know that my time at the Union, both as an employee and as a student will travel with me.
Alanna Goldman
Marketing Intern
3/2/20
---
The Marcia Légère Student Play Festival runs from March 5-7, 2020 at 7:30pm - Learn more