Phony Ppl Fuses Exquisite Spectrum of Jazz, Hip-Hop, R&B, Reggae, Soul, and Rock
Posted: 10/06/21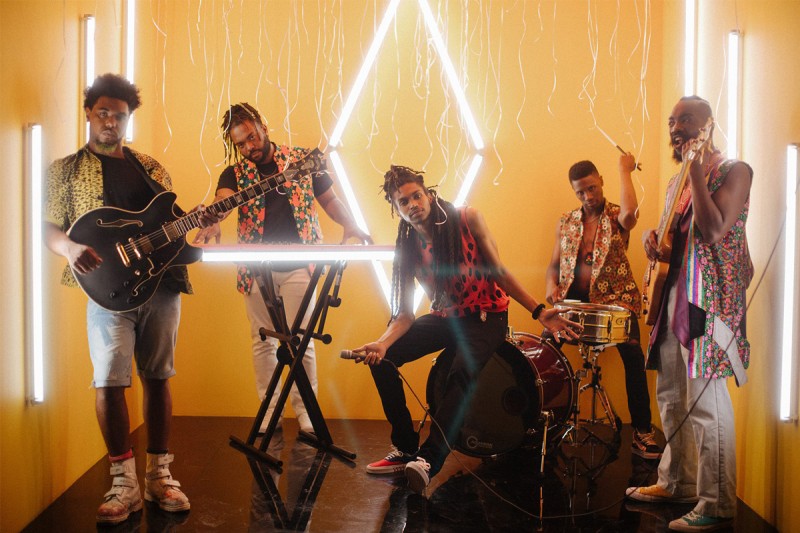 With liberation as their main ingredient, Phony Ppl is the epitome of creative expression. There are no limits when it comes to the spontaneously live performances of these Brooklyn-born artists, fusing an exquisite spectrum of jazz, hip-hop, R&B, reggae, soul, and rock into their unique sound. 
The five-man band is composed of Manhattan School of Music vocalist Elbee Thrie, keyboard player and composer Aja Grant, School of Rock guitarist Elijah Rawk, visual artist and bassist Bari Bass and Music Conservatory percussionist Matthew Byas. As Blue-Note artists, Phony Ppl has earned praise from Tyler the Creator and Childish Gambino and has released a hit with Megan Thee Stallion. 
The band's humble beginnings began in Byas's basement. 
The then-highschoolers jammed into the AMs, where singer Thrie recalls, ​​"We were all like, 'Wooo! This is it!' Then the next song happened and the one after that, every time we got together. We didn't realize how diverse everything was. We just embraced it." 
After years of intense music school and musical endeavors, the quintet continued to find their way back to each other. 
Thrie claims, "When you look at the story of how we did this, what we did, that was in our hands. We decided we wanted to be in on it. But how we connected was not in our hands. That was divine intervention."
The group's limitless, authentic compositions are compelling and alluring, including the hypnotic ballad "Why iii Love The Moon."  They believe music is life, and life is music. "I create music at the speed I live life," said Thrie, describing his song-writing process. "I can use my imagination, but when there's something that I'm really feeling, I want to flip that into some audio. That's part of the push. Some pain. That's the gas, the fuel" (source: Village Voice). 

Purchase tickets now for Phony Ppl's live performance on Thursday, Nov. 18 at 7:30 p.m. in Wisconsin Union Theater's Shannon Hall at Memorial Union.