Virtuoso Pacho Flores will Create and Share Art on Campus
Posted: 02/03/22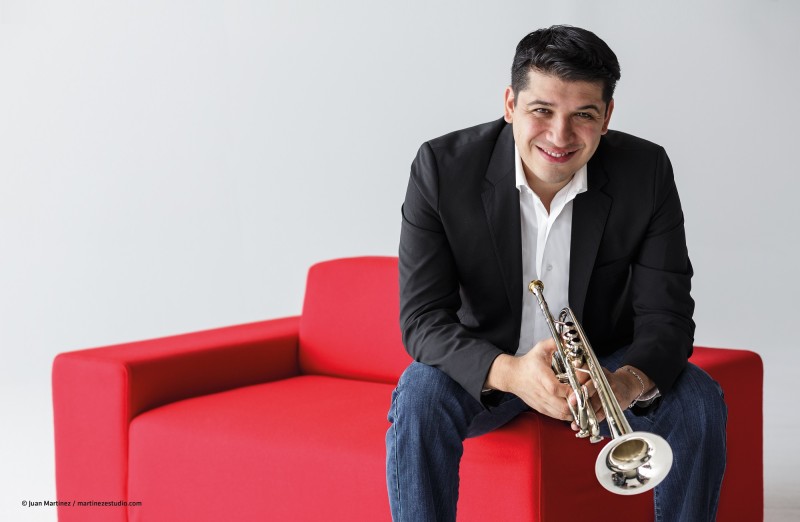 Pacho Flores with the UW–Madison Symphony Orchestra | March 5, 7:30 p.m.
Mead Witter Concert Hall at the Hamel Music Center
Presented by the Wisconsin Union Theater in partnership with the Mead Witter School of Music
Experience the transfixing sensation when a singular sound captures and commands an entire audience. Trained by Venezuela-based social action music program El Sistema and performing with the UW–Madison Symphony Orchestra (UWSO), revered solo trumpeter Pacho Flores marries an extraordinary ability to play with a passion for sharing his artistry with student musicians.
The El Sistema program, originating in Venezula, is not just a program, but a movement to inspire youth development and social change through music. This commitment to education and social justice is aligned with the Wisconsin Union Theater's mission and vision and the student leadership and development goals of the Wisconsin Union Directorate, the Wisconsin Union's student-run programming board. Almost all artists who perform at the Wisconsin Union's Wisconsin Union Theater also offer studio classes to UW–Madison School of Music students, which are often open to the public. 
In March, UW–Madison students have the unique opportunity to make music alongside Flores. First, they will work with UWSO Director and Assistant Professor and Director of Orchestral Activities Oriol Sans on a program that will include work by Alberto Ginastera, Arturo Márquez, and Mozart. Then, on March 4, Pacho Flores will work with students from UW-Madison Assistant Professor Jean Laurenz's trumpet studio to share his wealth of knowledge. 
Amanda Stezenski, a Wisconsin Union Theater intern and a UW–Madison clarinet performance major, explains why artists like Flores are so essential to music education.
"Having various professional musicians come to campus is a real treat. They point things out that you wouldn't have noticed before," Stezenski said. "They give you real-life advice based on their own experiences. You also get a sense for the music community that they come from, and it expands your possibilities…it's super inspiring. As music students, we sometimes get stuck in our own ways, and it can be repetitive. We spend hours on technique. But, then, people like Flores come to campus and offer a whole new perspective of your instrument… and you get that special feeling again of picking up your instrument for the first time in 6th grade. All of us musicians are a combination of our mentors, so the more the merrier." 
Want to be part of the experience as Pacho Flores plays with the UWSO? Purchase your tickets here.