New Events Added to the 2022-23 Season
Posted: 08/18/22
In addition to our classical Concert and Jazz Series performances, we are excited to introduce more sensational groups that we have lined up for you to enjoy at the Wisconsin Union Theater. Featuring gospel music from the heart, folk music with a twist, and innovative dance, all of these experienced ensembles have received rave reviews from critics. Let's hear what people have to say:
Soweto Gospel Choir | South African Gospel music
Soweto Gospel Choir has been at the forefront of national events honoring world leaders, such as Nelson Mandela, Bill Clinton, and Desmond Tutu. Critics praise the Grammy-winning and Oscar-nominated ensemble for its jubilant performances celebrating life.
"Seamlessly mixing classic house grooves with the mighty vocal power of the choir, the vibe is euphoric...The gems keep coming, and you can't stop dancing." Ian Bell, The Clothesline
"En masse, the choir is magnificent, a collection of unique voices that merges together to create a unified sound that is filled with all the colors of the human experience. And individually, each man and woman expressed themselves – whether through movement, through sound, through speaking, or through conducting…A stunning performance which was uplifting, energizing, and life-affirming." Majella McMahon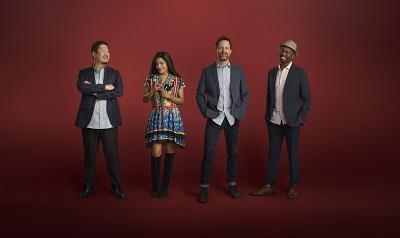 American Patchwork Quartet | folk music
Sometimes called the "immigrant soul" of American music, American roots music is a rich musical tapestry woven throughout our society since the country's founding days. With a talented vocalist, guitarist, drummer, and bassist representing a variety of immigrant heritages, the American Patchwork Quartet has mastered the art of reimagining timeless songs from America's history.
"American Patchwork Quartet Weave Modern Immigrant Dreams Into Songs: It's not an accident that the four members of the group, each with a thriving solo career, came together to start reinterpreting American roots music. The quartet's goal is purposeful: to unleash music's magic to help counteract pervasive prejudices around immigration and race. American Patchwork Quartet consists of an 11th-generation classical Hindustani musician, a drumming protégée of the late Ellis Marsalis, a first-call Issei jazz bassist, and a co-founder of Ranky Tanky, a Grammy-winning group inspired by the Gullah musical culture of the Carolina coast." John Floridis, MPR
PILOBOLUS "Big Five-OH!" | dance
This accumulation of 50 years of brilliant artistry will have you sitting in awe. These graceful athletes do not stick to any one genre and can adapt to any setting, from the Oscars to the Olympics.
Here's what audience members are saying about the "Big Five-OH!" tour as it sweeps the nation:
"This small but mighty company of six dancers were so connected, well-rehearsed, and intensely joyous in their passion for dance and storytelling. Pilobolus, a phototropic (light-loving) fungus, created in a college dance lab, is still growing 50 years later. ADF is the perfect stage to celebrate the great art makers, past and present. Pilobolus should be applauded for being committed to producing rebellious, creative, and risk-taking pieces for a new generation of audiences who want to be amazed and moved by dance art." Kirstie Spadie, CNVC
You can learn more about these events and purchase tickets here:
American Patchwork Quartet | Nov. 17
For details on the entire 2022-23 Wisconsin Union Theater season, check out our press release here.