A Spotlight on the Theater Team: Kendra Ramthun, General Manager
Posted: 01/11/21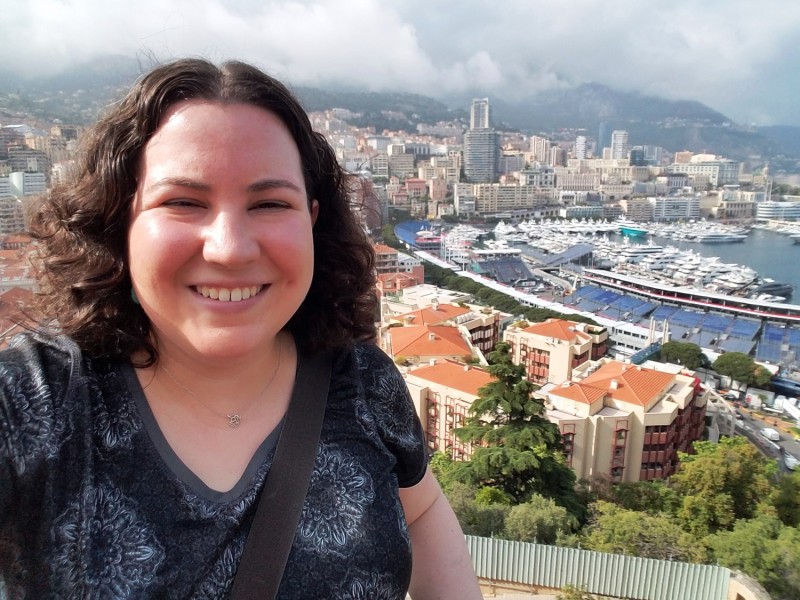 In a new article series, our writing team will introduce you to Wisconsin Union Theater team members. We begin the series with a relatively new member of the Theater team: Kendra Ramthun. Since Aug. 3, 2020, Kendra has served as the general manager of the Theater. No two days are alike for this talented professional. Kendra manages the theater's budgeting and financials; manages day-to-day Theater operations, including performance spaces rentals; and supervises the production team.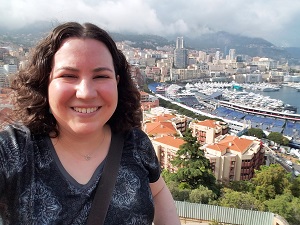 Under usual circumstances, this position is challenging, requiring impeccable time management and constant pivoting and problem-solving to create seamless experiences for rental customers and patrons. Kendra has done all of that this fall in addition to collaborating with the production team to produce all fall events in a virtual format for the first time in the Theater's history. In the interview below, you can learn more about Kendra and her work as a performing arts professional. We look forward to sharing more of our team members' stories in the months to come.
What about the performing arts inspired you to work in the industry?
The storytelling and human connection. Whether it is through music, theater, dance, or other forms of expression, the performing arts is unique in its ability to share stories that have a visceral impact on audiences. I find it immensely rewarding to experience the stories that that artist is sharing and to feel a live connection with what is happening around me.
What do you think is an important skill for an arts management professional to have?
I view myself as a facilitator for an artist's work. Meaning that I strive to provide the foundation to enable an artist's voice through their art. In my job, this can be through preparing a budget to support the realization of the artist's work on our stage or coordinating details with a student organization to help them meet their vision of success for an event.
What was your favorite performing arts event that you had a part in helping create or attended as a patron and why?
I have a number of favorites, but the one that is resonating most with me today is the opportunity I had to work on the production of "Heartland" – a musical loosely inspired by playwright Anton Chekov's "Three Sisters" and set in modern-day Iowa, where I am from. The show rehearsed in New York and was performed here in Madison as a production by the Madison Repertory Theatre and subsequently at Dallas Summer Musicals. I was a production assistant/assistant company manager hired by the NYC producers and had the pleasure of traveling with the show. The experience was amazing, but, more importantly, that was my first time in Madison, and I remember thinking that this was a lovely city where I could see myself living. Sixteen years later, here I am!
What is your favorite part of your job?
Experiencing the performances and knowing that I played a part in making them happen, hands down. A close second is collaborating with the Wisconsin Union Theater staff.
I understand you like to travel; what is one place you think people should visit or what is the top of your list of places to visit and why?
I do love to travel! It's hard to choose, but one of my favorite trips was to Greece and Turkey with my mom. Standing on the ancient ruins of the Theater of Dionysus at the Acropolis, Delphi, and Ephesus provided me with a personal connection to the origins of theater in a way that's impossible to describe. Plus, sharing conversation with a local family on a train ride through the Turkish countryside, when we didn't speak the same language, remains one of my most memorable experiences ever. Exploring history and experiencing other cultures through your own five senses provides a richness to understanding that is unparalleled.
Have you ever been starstruck in the course of your career and, if so, by whom?
I'm not really one to be starstruck, but I can tell you stories of meeting people like Stephen Sondheim, Bill Irwin, Daniel Radcliffe, Neil Patrick Harris, Betty Buckley, Wayne Brady, Cynthia Nixon and others in the course of my jobs in NYC. One of my favorites would have to be meeting Lin Manuel Miranda when he came to see a show at the theater that I managed – I did ask for a picture that time, and he graciously obliged!
In your words, why should people attend a Wisconsin Union Theater performance?
Because it's more important than ever, and there's no travel needed! The performing arts are what we turn to during times like this – whether for an escape from the stresses of today or as a reminder of the beauty all around us. During COVID-19, we are presenting streamed performances of both local and international artists, meaning you can experience the arts from your own home. Plus, it is more important than ever to support artists whose livelihoods have been severely impacted by the pandemic.
What is your advice to students aspiring to a career in performing arts management?
Get experience however you can, whether it is company management, development, working in a box office, or in production. Having a broad understanding of many areas will only help you – there will be time to narrow your focus later in your career. I didn't know general management was an option until after college, and I've drawn upon my wide range of experiences often.
When not serving as a general manager, Kendra enjoys traveling, reading, cooking, baking, playing board games, and being in nature.