Behind the Scenes: Kate Schwartz
Posted: 06/14/22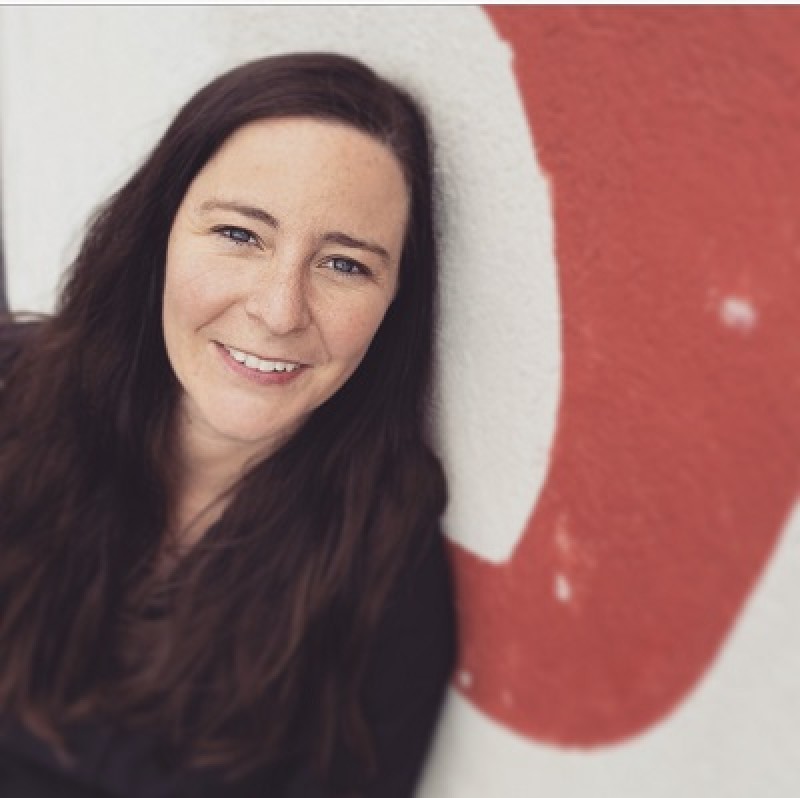 Photo by Lai King Moy
By Shauna Breneman
Kate Schwartz joined our Wisconsin Union Theater team less than six months ago, and, in that short time, has made a big impact. As our artist services manager, she tracks many behind the scenes details of our performances - from the fine print in contracts to the artists' specific needs on the day of the show - then relays key information to the many vested event contributors. Kate prioritizes communication and empathy in her daily work and believes that it is these components, coupled with co-workers and collaborators, that she finds success in her role.
She has said she is thrilled to work in tandem with the astute professionals in marketing and communications, production, ticketing and front-of-house, facilities, catering, campus collaborators and our student leaders. Kate said that one of the most fulfilling and fascinating parts of her job is witnessing how this interdepartmental work fits together to produce a successful experience for both our audience and our visiting artists. Kate is curious and dedicated. She loves what she's learned and considers it a privilege that she gets to continue learning from her work and colleagues during each unique event. This writer is comforted every day knowing Kate is doing her part to put the "union" in the Wisconsin Union Theater.
As one willing to learn at every turn, Kate brings lessons and expertise from more than 15 years of arts and entertainment work and passion projects. Her inherent love of the arts informs her professional arts management practices that help our team succeed. At the core of her experience and her person, Kate is a community activator. In her spare time, she directs intentional music programming to both reflect and engage marginalized communities surrounding Washington Park in Milwaukee. When the pandemic shut down summer concerts in 2020, Kate mobilized the concert series via a movable stage, flipping the concept of bringing people into the park by, instead, bringing the park to the people. As the youth education coordinator for Milwaukee Film, she helped bring more than 10,000 public school children into Milwaukee's Movie Palace to see and reflect on films they would not have had an opportunity with which to engage otherwise. She's pleased her graduate degree in arts management is being put to good use, as it seemed to be a rather new concept when she enrolled in the second cohort at the State University of New York at Buffalo. She feels lucky that she can assure the University of Wisconsin-Madison's graduate students in the field that it's an essential and expanding profession.
Kate generously took time out of her busy schedule to speak with us, so we could introduce you to this talented, intelligent person that we are honored to call our team member.
What changes have you observed in the arts and entertainment industry in the past 15 years?
As with many progressive efforts in society, the biggest change I've seen is still in its infancy and is a wider acceptance of art as payable work - both from creators and from buyers. A lot of my work with individual clients involved first convincing these artists that compensation does not constitute compromise and then clearly relaying that message in negotiations.
What is your favorite arts event of which you have been part?
Do I have to choose? I guess I'd have to say my first Wisconsin Union Theater event, which was the Chicago-based percussion quartet Third Coast Percussion. We presented this show at/with the School of Music in the Mead Witter Concert Hall. This felt like a major step in my onboarding process, setting "the stage" as it were of the work I'd signed up to do and illustrated the remarkable capabilities and heart of the people with whom I'd be doing the work.
Tell us about your experience studying American history and film.
I was told that film was not a legitimate means by which to study history. (What?! I know.) I had to petition the thesis board and history department at Reed College to convince them otherwise. The legitimacy of studying our history through film is fact and paramount. I am by no means claiming credit for this idea or for Reed adapting its curricula, but I do believe the truth in and of art prevails, even if it takes us a while to catch on.
Who is your professional hero and why?
My mom. When I was seven, I asked her why she did what she did for a living.
She answered, "I want to make a difference, even if it's just in one person's life." 
Without going into the details, this woman made a difference in tens of thousands of people's lives. I have the same goal. It's part of the reason I chose the arts.
What is a performance you experienced that engaged you the way you hope to engage your audience?
Robert Wilson's 2000 musical "Woyzeck," with music by Tom Waits and Kathleen Brennan, based on the unfinished play by German playwright George Büchner. I saw it at the Brooklyn Academy of Music with my family.
What is your favorite part of your role at the Wisconsin Union?
Besides the people with whom I get to work, I love that despite knowing how we create the magic of the performing arts, it never ceases to be magical.
What do you like to do for fun outside of work?
Work happens to be super fun. Time spent with my family is undeniably time well spent. My oldest daughter and I like to watch and make movies. My son is teaching me how to solve his (many) Rubik's cubes, and we try to do Wordle and read a poem together daily. My youngest daughter and I regularly mushroom hunt and forage. Though, I can't convince her that gardening serves a similar purpose. Maybe it's because we're much better at mushroom identification than weeding. My husband and I like to go to concerts, but my favorites are often the ones he's playing. I also love to cook and to cook with my kids. I like cooking because, unlike baking, ideas can be explored and mistakes can be made, and it usually still turns out okay. This is a good reminder for both work and life.