Isidore String Quartet and the Avery Fisher Career Grant
Posted: 09/21/23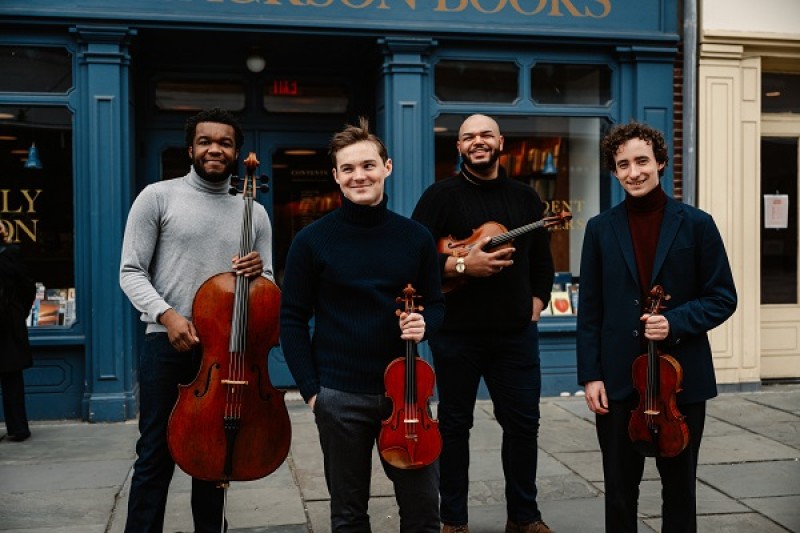 By Erika Stevens
"Musicians of outstanding ability are such an important part of our culture. But they are like flowers that must bloom at a particular time. They have to be helped at the right moments."
-Avery Fisher
2023 Avery Fisher Career Grant Awardees
Last March, Deborah Borda, chair of the Avery Fisher Artist Programme, announced five new recipients of an Avery Fisher Career Grant. One of those awardees, the Isidore String Quartet, will perform in Shannon Hall on Dec. 8.
First formed in 2019 as an ensemble at The Juilliard School, members of the Isidore String Quartet include violinists Adrian Steele and Phoenix Avalon, violist Devin Moore, and cellist Joshua McClendon.
Other 2023 recipients include Nina Bernat, double bassist; Bokyung Byun, guitarist; Emi Ferguson, flute player; and Evren Ozel, pianist.
Watch the 2023 Avery Fisher Career Grants Announcement Ceremony:
About the Esteemed Avery Fisher Career Grant
Avery Fisher Career Grants are designed to provide professional assistance and recognition to talented instrumentalists and chamber ensembles, who demonstrate great potential for major careers in classical music. Each recipient receives an award of $25,000, to be applied toward the advancement of their career.
First awarded in 1976, 171 artists have received Career Grants—including past Wisconsin Union Theater performers clarinetist Anthony McGill, violinist Gil Shaham, and violinist Geneva Lewis.
While primarily awarded to soloists, chamber ensembles also have received Career Grants since 2004. Artists cannot apply for the award. Instead, the grants are administered by the Lincoln Center for the Performing Arts, which maintains a Recommendation Board of conductors, instrumentalists, music educators, composers, and others who nominate candidates. Up to five Career Grants may be given each year and are determined by the executive committee. The grant was established by Avery Fisher, a businessman and philanthropist who started Fisher Radio in the 1950s, producing the first transistorized amplifier and the first stereo radio-phonograph.
Check out the Isidore String Quartet as they launch their impressive music careers. Don't miss your chance to see What's Next Now at the Wisconsin Union Theater. Get your tickets soon!