Honoring "The Witch of Fox Point"
Posted: 08/30/19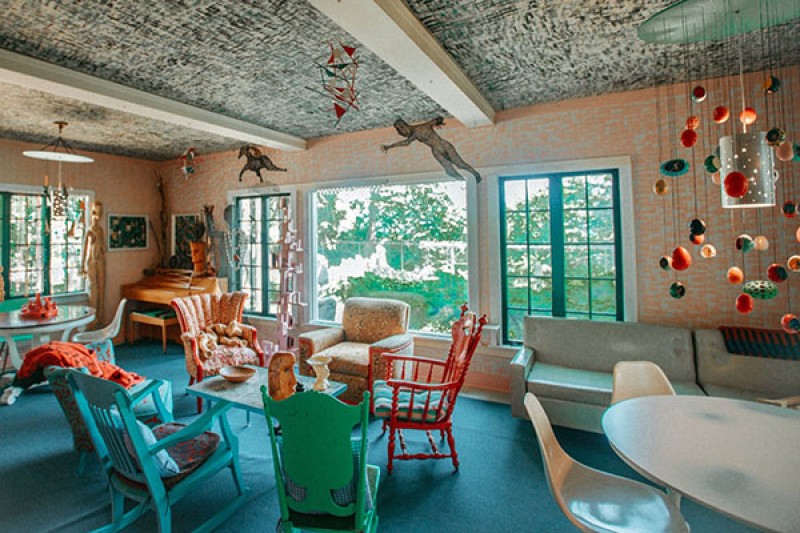 She was known as "The Witch of Fox Point." She turned her house and surrounding yard into an art environment. She was labeled as an "outsider" by her community. I'm talking about former Milwaukee native, teacher, and business owner Mary Nohl. Her intriguing life story is the subject of the upcoming performance by Marielle Allschwang and The Visitations, Precession of a Day: The World of Mary Nohl.
Mary Nohl was not the "witch" or "total outsider" that she was made out to be. She held a Bachelor of Fine Arts degree from the School of the Art Institute of Chicago, owned her own pottery shop in Milwaukee, and was a member of numerous professional organizations. However, it was the transformation of her home on the shores of Lake Michigan into an indoor and outdoor art environment that caught the community's attention. Neighbors saw her yard filled with sculptures and other striking artwork and those that had the chance to step inside her house noticed that Nohl turned almost every piece of her home into a unique work of art. Hundreds of her pieces have since been cataloged from inside and outside Mary Nohl's lakeside home showing not only the large amount of artwork she created, but also its significance and value in the art community.
Nohl's fascinating home wasn't the only element that led to her label as an "outsider." She created graphic novels, ran a pottery shop by herself, and traveled all over the world. She did this all while unmarried, which was uncommon in the 1960s. Her commitment to breaking down boundaries and challenging social norms created her "outsider" view from the community as well as constructed her lasting positive legacy in the Milwaukee arts community.
Even though Nohl passed away in 2001, her legacy still lives on today. Her legendary home has been added to the National Register of Historic Places, and many of her works have been preserved and showcased by the John Michael Kohler Arts Center in Sheboygan, WI. The Greater Milwaukee Foundation has also established the Mary L. Nohl Fund in her name. The fund was established in 2001 and since then has donated over $8.5 million to programs and events that foster creativity in art throughout the Greater Milwaukee area. Something that Mary Nohl would be very proud of today. Milwaukee native Marielle Allschwang, and her band The Visitations pay tribute to Nohl's inspiring life with a performance that features a song cycle with a video imagery accompaniment. Precession of a Day: The World of Mary Nohl continues Mary Nohl's legacy and compelling life story.
Dan Palec
Marketing Intern
8/30/2019
---
Precession of a Day: The World of Mary Nohl is a free and unticketed event in the Play Circle September 19 - Learn more.