A Spotlight on the Theater Team: Heather Macheel
Posted: 02/08/21
Heather Macheel, our second feature on our theater team story series, joined the Wisconsin Union team in 2005 as a student stagehand. She enjoyed it so much that she decided to stick around and stayed with the team as a temporary employee after graduating. Then, after a year, she undertook a second temporary position, one that offered more hours to pursue what she loved. Heather transitioned into the role she plays today—a full-time position, created for her merits—in 2015.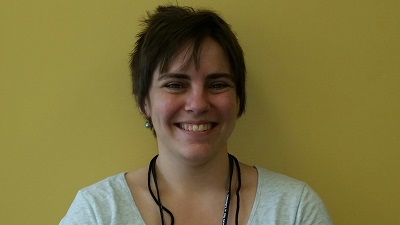 As the Wisconsin Union Theater technical director, no day is the same, and Heather remains steadfast in her dedication to the craft for more than 15 years, making certain that each production runs smoothly. Even in the midst of a global pandemic, Heather works tirelessly to make each theater event enjoyable for patrons and performers. In the interview below, you can find out more about Heather and her work as a technical director.
What drew you to the technical side of the performing arts?
I actually came to the University of Wisconsin–Madison expecting to go into some kind of biology or research lab work. I did a study abroad semester in London, and one of the perks was that there were lots of student tickets available for theatrical events for 1 pound. I saw probably 25 or 30 theater shows while I was there. My next semester, I took a lighting class, found out that people actually did this kind of fun and exciting work as a job, and decided to work for University Theatre during the summer and take more classes. I heard through a friend of a friend that the Wisconsin Union Theater was hiring, and the rest is history.
What does a typical day look like for you? How has COVID-19 changed your typical day?
There isn't really a "typical" day in tech theater, and that's one of the things I love about this job. Some days are lots of administrative work and answering emails, some days are on the side of a stage watching a show come together, and some are spent running around trying to troubleshoot a problem before the house opens. I love the variety.
What do you like to do for fun when you're not serving as the Theater's technical director?
I enjoy games! Board games, computer games (the old stuff like Myst and Kings Quest, and also recently Untitled Goose Game), and my husband got me into Dungeons and Dragons 4E about 10 years ago. We've been playing Dungeons and Dragons-like games with our kids. I'm a fan of tent camping as well (state parks, air mattresses, and bathrooms available, not backpacking or backwoods).