Renée Fleming: Artist, Advocate and Leader
Posted: 03/23/22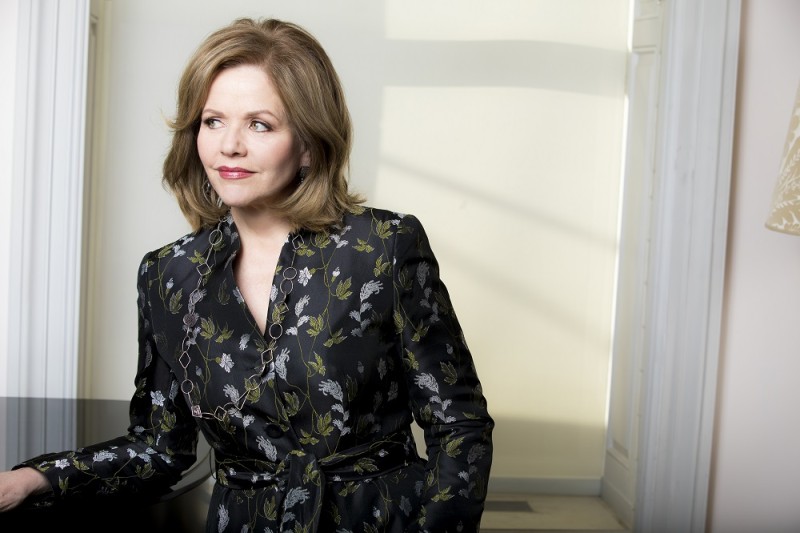 By Abby Synnes
"The People's Diva" Renée Fleming is the definition of a triple threat: not only is she one of the most accomplished opera singers in the world, she is also an advocate for music therapy and a trailblazing leader in the music industry. In April, Renée will visit Memorial Union for three incredible events that you will not want to miss.
Artist
In the 36 years since her professional debut, Renée has fine-tuned her personal instrument to perfection, bringing exquisite control and grace to each performance. With a soprano voice as smooth as liquid gold, a performance by Renée is guaranteed to give you goosebumps.
She has performed at some of the most prestigious events in recent history, including the 2006 Nobel Peace Prize ceremony, the 2008 Beijing Olympic Games, the 2009 Inaugural Celebration Concert at the Lincoln Memorial for then-President Barack Obama and the 2012 Diamond Jubilee Concert at Buckingham Palace for Queen Elizabeth II. She's headlined nearly every major concert hall in the world and has become a household name worldwide.
Did you know that in addition to being a four-time Grammy Award winner, Renée has also acted on and off-Broadway in productions such as "Living on Love," "Carousel," "Norma Jeane Baker of Troy" and "The Light in the Piazza"? Her portrayal of Nettie Fowler, the motherly figure in "Carousel," even earned her a Tony Award nomination for Best Performance by an Actress in a Featured Role in a Musical in 2018.
The Wisconsin Union Theater team is honored to welcome Renée Fleming to Shannon Hall on April 30 at 7 p.m. Don't miss this unique opportunity to hear Renée's artistry for yourself; you can learn more and purchase tickets now at the event page.
Advocate
Renée's influence doesn't end at her artistic contributions. In collaboration with the John F. Kennedy Center for the Performing Arts and the National Institutes of Health, in association with the National Endowment for the Arts, Renée has created a program titled "Music and the Mind" to educate people about the healing powers of music and music therapy. At the core of Renée's presentation is her fascination with the subconscious influence music can play on the core of who we are.
In a conversation with Stanford Medicine, Renée gave an example of the powerful impact of music on an individual with Alzheimer's.
"Why can somebody who doesn't recognize anyone around them sit down at a piano and play beautifully or remember the words to songs and sing along?" Renée said. "There is an emotional power, an underpinning of who we are as human beings, that exists in this realm of music."
Since giving her first "Music and the Mind" presentation in 2017, Renée has traveled across North America, Europe and Asia to amplify research being done at the intersection of music, health and neuroscience. When COVID-19 hit in 2020, she transitioned to a 19-episode webinar series that featured highly relevant topics such as "Un-Loneliness: Music for Pain and Mental Health" and "Using Music for Health and Wellbeing during COVID-19."
Renée will bring her advocacy for music and mental health to Shannon Hall in Memorial Union on April 28 at 7 p.m. Tickets are available for purchase now.

Leader
But wait, there's more! When Renée isn't performing to sold-out concert halls or presenting groundbreaking research, she still finds time to blaze trails for others in her field. She has many momentous "firsts" and awards to her name, including but not limited to:
First woman to solo headline a season opening night gala for the Metropolitan Opera
First opera singer and classical artist to sing the national anthem at the Super Bowl
Winner of the Outstanding Contribution to Music Award at the 2004 Classical BRIT Awards
Winner of the 2012 National Medal of Arts from then-President Barack Obama for her contributions to American music
UW-Madison student musicians will learn from this incredible leader on April 29 at 4 p.m. during a studio class in the Collins Recital Hall in the Mead Witter School of Music. Five select students will perform in front of Renée during this exclusive opportunity to learn from Renée's performance techniques. Renée will draw from her own expertise and experiences to offer comments and suggestions to raise their musicianship to the next level. Tickets to this class are sold out. We are grateful to our patrons for their interest in and attendance of this event. Tickets are still available for her recital and her conversation and the role of music and the arts in brain health.
Whether you're interested in Renée as an artist or advocate, there's something for you to enjoy during Renée's weekend in Wisconsin this spring. Check out the Wisconsin Union event calendar to stay up-to-date on all upcoming Wisconsin Union Theater events.